International prime contractor chooses Trenton Systems for autonomous maritime program
by Christopher Trick, on Oct 16, 2022 3:00:00 PM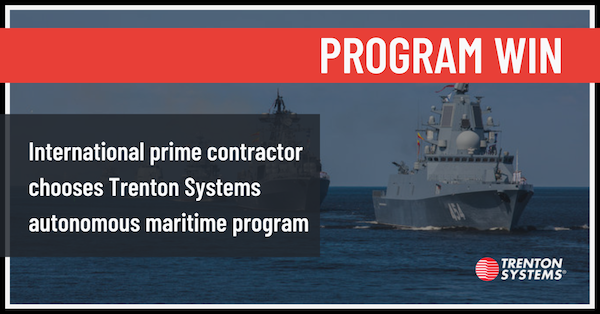 DULUTH, GA—Trenton Systems has secured a multi-million dollar program win from an international prime contractor for an autonomous maritime threat detection program.
The integration of autonomous, secure, high-performance computers with compute density for rapid deployment is a critical component of this program, with a heavy focus on rack servers. This represents customers' commitment to Trenton's current and next-gen technologies.
The customer chose Trenton because of its responsiveness, flexibility in engineering design, and customization capabilities. The SWaP-optimization of Trenton's solutions, which help to maximize efficiency and reduce total cost of ownership over an extended period of time, stood out in particular.
Trenton's 1U servers, each with four processors, will sit inside naval carriers and autonomous underwater vehicles (AUVs) to help detect and neutralize sea mines and underwater improvised explosive devices (UWIEDs).
"Our servers are unique in that they can package maximum compute, intelligence, and security into a small space, making them the ideal choice for a variety of complex applications across all domains of the battlespace," said Philippe Weber, Director of Sales at Trenton Systems. "It's a honor to be chosen for this program, and I hope that we can help support it for years to come."
Trenton's custom solutions help enhance mine warfare tactics and ensure the safety of military personnel across the sea, land, air, space, and cyber domains.
Powered by 5G technology, Trenton's advanced computing systems strengthen networking capabilities, increase data transfer rates, and reduce latency in the harshest of communications-denied and -contested environments.
Trenton's servers also support next-gen, AI-powered Intel® Xeon® CPUs for accelerated processing, inferencing, and data analytics.
Zero-trust architected with FIPS 140-2 and FIPS 140-3-certified self-encrypting drives (SEDs) and advanced, multi-layer cybersecurity measures, Trenton's solutions protect data-at-rest, in-transit, and in-use across the hardware, firmware, software, and network stack.
"Naval customers are a major component of Trenton's business, and we couldn't be happier to be supplying our ruggedized, cybersecure, American-made servers to help keep our warfighters on the high seas safe, alert, and ready for action," said Sean Campbell, Chief Commercial Officer at Trenton Systems. "Trenton's exceptional engineering capabilities coupled with a customer-first approach continues to provide meaningful support for mission-critical applications, no matter the time or place."
Supporting military primes and various defense contractors with American-made computing is of the utmost importance as the DoD ramps up onshoring of chip fabrication, hardware manufacturing and assembly, and supply chain risk management across the spectrum.
Trenton Systems' dedication to this mission continues to play a key role in providing military, commercial, and industrial personnel with the solutions they need to bolster applications at the strategic, tactical, and operational levels.
Trenton's USA-made edge computing systems, in rack mount or small form factor, deliver immediate, actionable insights to increase situational awareness, shorten response times, and enhance decision making in real-time, each-time.