Integrated Base Defense: How the U.S. Air Force Protects Its Assets
by Brett Daniel, on Sep 24, 2020 10:42:52 AM

Photo: Integrated Base Defense (IBD) as we know it today has been a topic of conversation for the Air Force for more than a decade now. But what is IBD, and why has the Air Force declared 2020 the "Year of Integrated Base Defense?" Learn all about IBD in this blog post.
Table of Contents
Introduction
When aircraft are removed from their natural environment of the air and returned to their bases, they become vulnerable, like any bird of prey in its nest.

- Joseph Milner, Colonel, United States Air Force
Milner's quote, taken from his Air Force Research Institute Paper on the need for Integrated Base Defense (IBD), opens a dialogue about a defense dilemma that should be discussed more often: how the U.S. Air Force protects the assets that allow Air Force personnel to do their jobs, protect themselves and others, ensure air force base security, and in turn, achieve effective national security.
The U.S. Air Force has officially declared 2020 the "Year of Integrated Base Defense," and in late July, held AFWERX Fusion 2020, where leaders discussed the Air Force's Base of the Future initiative.
The initiative is made of up six challenges, one of which is entitled "Base Security and Defense." Its mission is to "protect the people and critical resources" of U.S. Air Force bases by enhancing security and strengthening perimeter defenses. This is, in a nutshell, what IBD is all about.
In this blog post, we'll talk about integrated base defense, what it is, its history, its objectives, and its future, particularly in the context of the emerging use of technologies like artificial intelligence (AI), machine learning (ML), unmanned aerial systems (UAS), and edge computing in military applications.
We'll also discuss what the Air Force Security Forces had to say about IBD at AFWERX, as well as why you should choose made-in-USA quality and reliability for your IBD and other mission-critical applications every single time.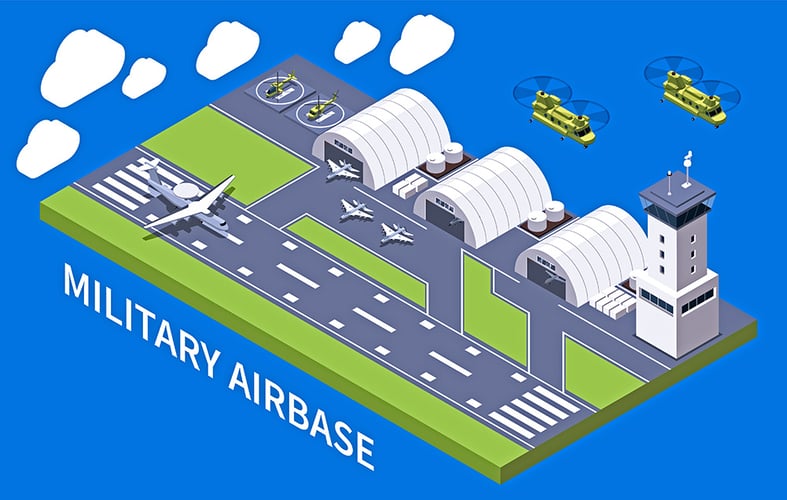 Graphic: In practice, IBD is a concerted effort between military and non-military forces to better protect U.S. Air Force bases around the world. It also encompasses the technologies used to accomplish this goal.
What is integrated base defense?
Integrated base defense, or IBD, is an umbrella term encompassing a host of activities that the United States Air Force carries out to protect its installations – the air force bases themselves - the bases' assets – the aircraft, the base defense operations centers (BDOCs), and other interior and exterior base facilities - and most importantly, the members of the Air Force stationed at these bases.
The primary goal of IBD is to facilitate seamless cohesion, communication, and interoperability between existing base defense systems and cohorts to augment and improve overall base defense efforts.
According to the Physical Security Enterprise & Analysis Group (PSEAG), an arm of the Office of the Secretary of Defense responsible for DoD security equipment research, development, testing, and evaluation, these improvements include:
According to a summary of a $495 million IBD contract won by Science Applications International Corporation (SAIC), L3Harris Technologies, and Northrop Grumman in 2009, there are 10 threat-related elements of IBD:
Deceive
Deter
Anticipate
Deny
Detect
Delay
Assess
Deploy
Neutralize
Mitigate

Graphic: The establishment of IBD stems from previous insufficiencies in air base protection efforts.
Where does the concept of integrated base defense come from?
Historically, the Air Force has considered threats originating outside of air base perimeters to be the responsibility of the other branches of the military or the nations in which U.S. Air Force bases are located, according to an Air Force Research Institute Paper authored by Col. Joseph Milner of the U.S. Air Force.
In this paper, Milner contends that events that occurred during the Vietnam War, the Gulf War, and the conflict in Iraq prove that these forces, as disparate, standalone sources of defense operations, are either generally lacking with regard to the effective execution of base defense operations, or they downplay certain risks that many air base commanders consider critically important to overall base security.
In response to these insufficiencies, the Air Force began developing IBD strategies and tactics, with instructive documents being released in the mid-2000s.
How are integrated base defense objectives achieved?
According to Milner, IBD emphasizes ground intelligence collection efforts, applies an interoperative defense systems approach, and creates a concerted base defense counterinsurgency plan between joint bases, the other branches of the military, host nations, and local civil authorities.
You can think of IBD as an "all hands on deck" approach to air base defense, with numerous military, government, and non-government forces involved in defending a base. In addition, the American military forces use intelligence, surveillance, and reconnaissance (ISR) data collected and processed by high-performance computing platforms to achieve their IBD objectives.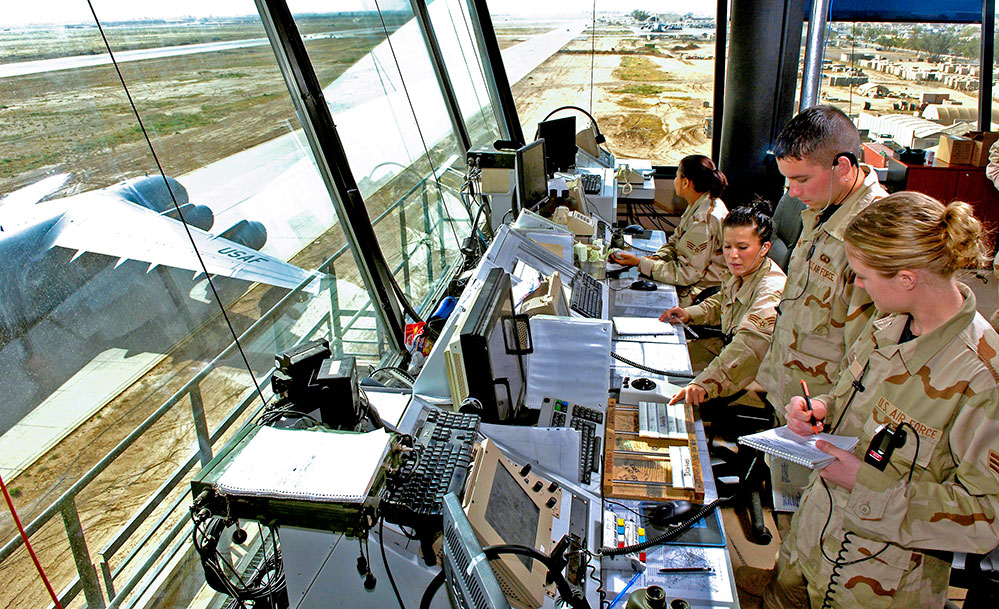 Photo: U.S. Air Force personnel at Joint Base Balad in Iraq, where the first operational IBD test was performed. Credit: Military Bases
Is integrated base defense effective?
Milner's research paper documents the first-ever IBD test at length. A summary of the paper is provided below, but you can read the entire study here.
The first operational IBD test occurred in 2008 at Joint Base Balad in Iraq, which experienced more than 400 attacks from insurgents in 2006 alone.
Previously, defense efforts at Balad had been mainly reactive: responses to insurgents were determined on the spot as an attack was happening.
But with IBD in place, proactivity was key: intelligence analysts and aircraft would gather data on Balad's exterior terrain and use it to enhance security patrols. This, in turn, gave the local U.S. Army forces more time to develop and execute counterinsurgency (COIN) operations, with local government and non-government forces eventually being integrated into this force-symbiotic COIN plan.
As a result of this newly implemented, IBD-focused plan, the number of attacks on Balad decreased by 75 percent, and miss distances doubled. Overall, enemy loss of effectiveness increased by more than 90 percent.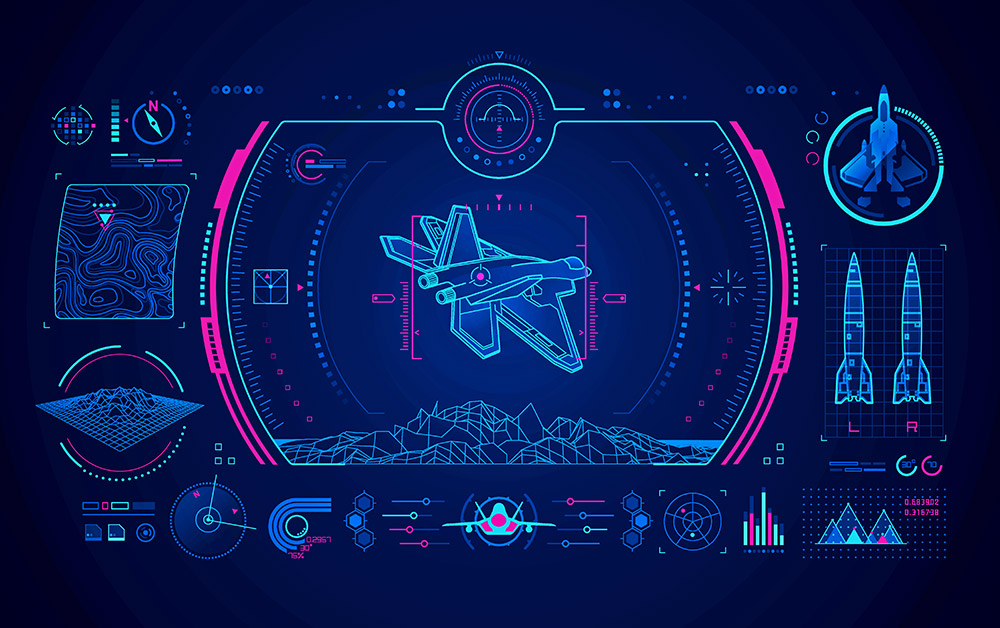 Graphic: A rise in complex technologies that could potentially threaten U.S. Air Force bases is partly why IBD continues to be an essential initiative for the Air Force today.
Why is integrated base defense important in 2020?
As mentioned, the Air Force has declared 2020 the official year of IBD, and given the rise of sophisticated artificial intelligence (AI), machine learning (ML), unmanned aerial systems (UAS), and edge computing technologies in military operations around the world, integrated base defense security systems (IBDSS), with an emphasis on advanced cybersecurity protocols, is important now more than ever.
Threats to American air force bases may be better managed with IBD, but they're becoming more complex, covert, and unpredictable due to advancements in technology. As such, the Air Force and its partners must continue to facilitate and innovate IBD through cohesive and effective collaboration between both personnel and the digital defense systems supporting related operations.
At the 2020 virtual event for AFWERX Fusion, the Air Force's premier innovation program, Heidi Scheppers, deputy director, Security Forces, HQ AF/A4S, discussed the initial Integrated Base Defense Security Systems (IBDSS) program development document authored by the Air Force in 2005.
She stressed how the program has struggled to keep up over the years.
"When we drafted this document, we realized that we need systems designed to make decisions better and faster in order to respond to the many threats appropriately," Scheppers said. "However, the IBDSS program has not kept pace with evolving threats, operations, technologies, policy guidance, or defense/security/law enforcement industry standards and best practices. Sustainment efforts to upgrade or refresh systems continue falling further and further behind, with some fielded systems in service for over 20 years."
Referring specifically to the future of air base defense, Schepper said:
"We are integrating advanced technologies to 'sense' the base air picture and enable seamless physical to digital layered defense. The result is a digital layered defense system across all domains, using AI, ML, edge computing, UAS, and kinetic effects."
And at the heart of the Air Force's push for innovative IBDSS, Scheppers said, is a cyber-secure, multi-domain command, control and communications architecture powered by affordable, non-proprietary, COTS computer systems with open design principles - ergo, and open systems architecture.
According to Schepper, this architecture encompasses four aspects of defense:
Defender Multi-Domain Command, Control and Communications (DMDC3) – to provide a platform that integrates computing power, means of communication, and situational awareness tools
Platform for Integrated Command, Control, and Communications and Responsive Defense (PICARD) – to ensure ongoing development is performed with open design principles and open systems management, discarding outdated technology and implementing low-cost technology
Defender Command, Control and Communications (DC3) – to integrate systems and networks in IBDSS and transport data in any form to get timely, relevant information to Air Force personnel in real or near-real time
Defender Multi-Domain Situational Awareness Tool (DMSAT) – to ensure a mobile common operating picture interface and kit for all defenders
"These four aspects together will transform command and control centers with seamless integration. As a result, Security Forces will receive much more relevant and actionable information to better protect the manpower and assets. We must continue to innovate and adapt. This will ensure that the US military maintains our technical and tactical advantages that we have enjoyed since WW1."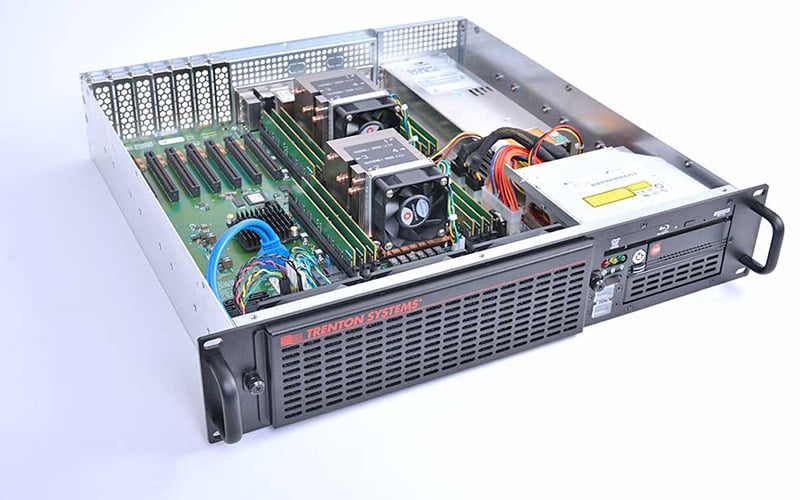 Photo: Trenton Systems' 2U rugged servers (above) are powering IBD systems this very second.
Trenton Systems: A Trusted Choice for Integrated Base Defense
Trenton Systems' made-in-USA, mission-critical servers power integrated base defense security systems at U.S. Air Force bases around the world.
Situated in both racks and transit cases, these 2U rugged servers are used to surveil the bases' interior and surrounding areas for potential threats and insurgents, delivering accurate, timely, relevant, and usable information to Air Force personnel in real or near-real time.
Due to the fast-paced nature of this mission-critical application, these systems must be in a constant state of operation, able to store and process surveillance data quickly, and fitted with high-powered graphics processing units (GPUs) and lots of PCI Express (PCIe) slots to run the bases' surveillance programs efficiently and support any additional system expansion.
To support these outcomes, we recommended a 2U rugged server comprised of:
1 Ruggedized THS2005 Rack Mount Chassis
1 HDEC Series SEP8253 Processor Board
2 Intel Xeon Gold 6134 Processors
One 650W Fixed, 95-265 VAC Power Supply
1 HDB8227 PCIe Backplane
1 PNY NVIDIA GeForce RTX 2080 Ti 11GB Blower Edition
Eight 64 GB DDR4-2666 Memory Modules
2 Hot-Swappable 960GB SATA SSDs in a 3.5" Drive Bay
This is just one configuration, of course. Trenton Systems specializes in both custom and COTS solutions to serve the needs and requirements of its military, industrial, and commercial customers.
Choosing Trenton Systems for your military, commercial, and industrial applications also comes with a host of benefits, including but not limited to:
A loaner program, through which you can test your configured systems for free, with no hidden costs or commitments, for 45 days
Advanced cybersecurity and virtualization software from Star Lab, including their Titanium Security Suite and Crucible Embedded Hypervisor
Designed, manufactured, assembled, integrated, tested, and supported in the United States of America
Obsolescence control
Custom BIOSes
Stringent quality control
In-house shock, vibration, temperature, and humidity testing to MIL-STD-810, DO-160, and other leading compliance testing standards
Limited lifetime support from in-house support engineers and staff
As discussed in this blog post and by our nation's top Air Force leaders, the rise of AI, ML, UAS, and edge computing technologies in defense and warfare operations around the world poses a truly unique threat to air base defense, cybersecurity, and ultimately, national security.
Truly reliable and trusted rugged servers and workstations crafted within the nation's borders and utilizing advanced cybersecurity software from leading cybersecurity companies are important now more than ever.
Given the continued proliferation of counterfeit parts, the infiltration of America's government and top industries through foreign microchips, email hacks, and other avenues, and the growing weaponization of AI and ML against American defense operations around the world, trusted rugged servers and workstations made in America with stringent quality control and top-notch cybersecurity measures should be the obvious choice for America's mission-critical defense systems.
Trenton Systems checks every box, from made-in-USA quality and reliability, the latest high-performance technologies, truly rugged durability, and advanced cybersecurity. Best of all, we're here to cater to the needs of your program or application, and we'll do it right here at home, with you.