MIL-STD-810 Testing Roundup: The Methods We've Covered So Far [PDFs]
by Brett Daniel, on Jun 19, 2020 4:03:33 PM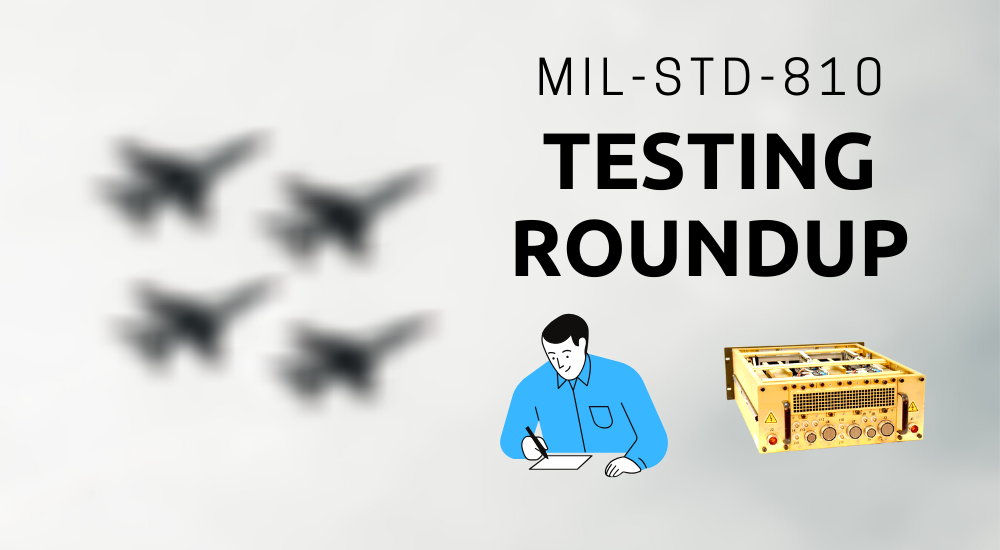 Graphic: This mid-2020 MIL-STD-810 Testing Roundup includes all the MIL-STD-810 test methods Trenton Systems has blogged about so far in 2020.
Note: Trenton Systems is not a compliance testing facility. We manufacture rugged servers and workstations that conform to military and industrial standards, such as MIL-STD-810 and DO-160, and we can ensure that our systems comply with these standards using our in-house testing equipment, or by sending our systems to a third-party compliance testing laboratory for validation, but our facility does not offer compliance testing services for products manufactured outside of Trenton Systems. For a list of laboratories that can assist you with your testing needs, please read this blog post, which lists the best compliance testing laboratories in the world.
Trenton Systems has blogged about numerous MIL-STD-810 test methods since the beginning of 2020.
We've included links to those posts below, as well as downloadable PDFs of the test methods, segmented from the original MIL-STD-810H document.
Are there any methods you'd like to see us blog about?
As of June 2020, we've blogged about:
| | |
| --- | --- |
| Test Method Blog Post | Test Method PDF Download |
| Low Temperature, High Temperature and Temperature Shock Testing [Methods 501.7, 502.7 & 503.7] | |
| Vibration Testing [Method 514.8] | |
| Humidity Testing [Method 507.6] | |
| Shock Testing [Method 516.8] | |
| Sand & Dust Testing [Method 510.7] | |
| Low Pressure (Altitude) Testing [Method 500.6] | |
| Contamination By Fluids Testing [Method 504.3] | |
| Solar Radiation (Sunshine) Testing [Method 505.7] | |
Learn more about how MIL-STD-810 servers are enhancing military defense programs and applications worldwide.
About Trenton Systems
Trenton Systems is a ruggedized computer hardware manufacturer specializing in the design, manufacture, assembly, integration and support of rugged servers, workstations, processor boards, PCIe backplanes, storage servers, blade servers, PCIe expansion kits, mini PCs and customized high-performance computers for environmentally extreme applications worldwide.
Founded in 1989, Trenton Systems provides the defense/military, government, industrial and commercial markets with in-house engineering, testing and support services, computer life cycle planning, revision control, warranty support and customization/configuration support.
Trenton Systems' rugged computers meet or exceed UL, CE, FCC and military standards (MIL-STD-810, MIL-STD-461, MIL-S-901, DO-160), are backed by a five-year warranty and in-house limited lifetime support and are manufactured in the company's Lawrenceville, Georgia, USA facility, which is certified to ISO 9001:2015 quality management standards.