Major military prime chooses Trenton for Coast Guard C6ISR Program
by Christopher Trick, on Sep 12, 2022 2:37:48 PM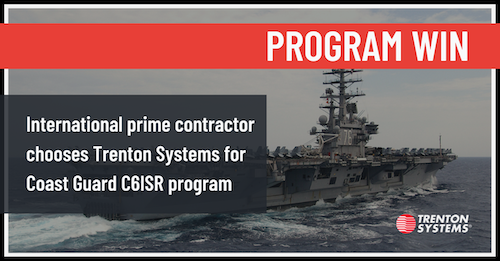 DULUTH, GA—Trenton Systems has secured a multi-million dollar program win from a major military prime for the United States Coast Guard's (USCG) National Security Cutter (NSC).
The integration of secure, USA-made, edge computers is a critical component of this program, with a heavy focus on rack servers. This ongoing deployment represents customers' commitment to Trenton's current and next-gen technologies.
The customer chose Trenton because of its responsiveness, flexibility, and excellence in engineering design. The ruggedization, SWaP-optimization, and enhanced compute capabilities of Trenton's solutions, which help to maximize efficiency and reduce total cost of ownership over an extended period of time, stood out in particular.
The National Security Cutter is an enormous ship that serves as the centerpiece of the Coast Guard's fleet, supporting maritime, homeland security, and defense missions. Its design provides for better sea-keeping and high sustained transit speeds with greater endurance and range.
The NSC is the largest and most technologically sophisticated ship in the Coast Guard's entire fleet. With robust command, control, communication, computers, intelligence, surveillance, and reconnaissance equipment, the NSC is the operational-level headquarters for complex law enforcement and national security missions with Coast Guard and partner agency participation.
"We are honored to work with tier-one military primes supporting the various branches of our military, including the Coast Guard," said Kimberly Carter, Senior Account Manager at Trenton Systems. "Together, we work as one team to ensure our warfighters are safe, secure, and ready for action across all environments, no matter where the mission leads."
Trenton's 1U BAM rack servers will be placed within the ship's electronic support center to accelerate and enhance radar, electronic warfare, and C6ISR applications.
With FIPS 140-2-certified self-encrypting drives (SEDs) and advanced, multi-layer encryption measures, Trenton's solutions protect critical data-at-rest, in-transit, and in-use across the hardware, firmware, software, and network stack. Trenton servers also support next-gen, AI-powered Intel® Xeon® CPUs for accelerated processing and data analytics at the edge.
"Fully ruggedized for unique and harsh environments, Trenton's dedicated engineering lab, sales group, and purchasing departments were able to jump through hoops to ensure that our servers worked within the customer's application," said Sean Campbell, Chief Commercial Officer at Trenton Systems.
Supporting military primes and various defense contractors with American-made computing is of the utmost importance as the DoD ramps up onshoring of chip fabrication, hardware manufacturing and assembly, and supply chain risk management across the spectrum.
Trenton's dedication to this mission continues to play a key role in providing government and military personnel with the equipment they need to advance technologically across the modern, multi-domain battlespace.
Trenton Systems' high-performance computers deliver immediate, actionable insights to increase situational awareness and bolster decision-making capabilities in real-time, no matter where the mission leads.