The Ultimate Guide to 5G Edge Computing: Applications, Technologies, and Solutions
by Yazz Krdzalic, on Nov 28, 2022 9:56:58 AM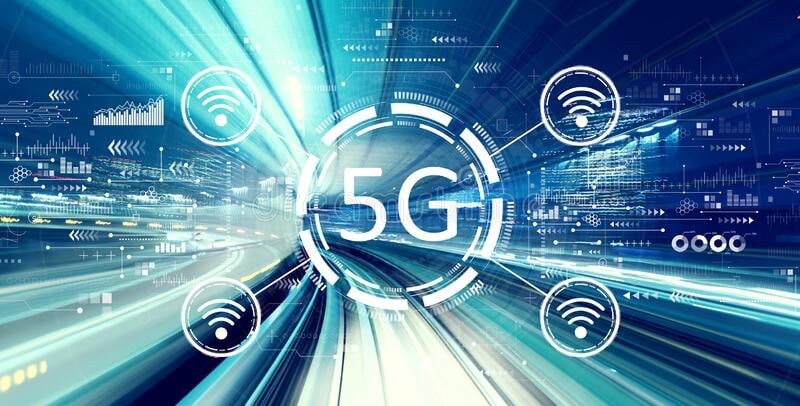 The modern technological landscape is changing daily due to increased interconnectivity and a large amount of available data.
This data must be processed, analyzed, sent out to a network, and then to a user device within a matter of seconds. This is where 5G comes into play.
In this blog, you will learn more about how 5G edge computing enhances HPC architectures, various 5G technologies, and where Trenton's IES.5G solution comes into play.
TABLE OF CONTENTS
Background
As the amount of available data explodes and devices become increasingly interconnected in an Internet of Things (IoT), high-performance computing architectures must adapt to these changes.
Data needs to be quickly processed, analyzed, sent out to a network, and then to user devices, especially within a military environment.
Why? Even the slightest delay in delivering information can have life-threatening consequences, as these critical, actionable insights are needed so that military personnel can stay vigilant of and respond to enemy threats.
5G networks use cell towers or radio access networks (RANs) to receive and transmit data over a network and between user equipment (UE).
Normally, these cell towers consist of antennas, a remote radio unit (RRU), and a baseband unit (BBU). The RRU receives information from the antennas, and it then transmits this information to the BBU to be processed and sent out to the core network.
This, in turn, necessitates the adoption of 5G technology to enhance compute and connectivity in real-time within the harshest of environments.
But for 5G to be successfully implemented, the number of BBUs needs to be increased, and part of this is virtualizing BBUs and keeping them in one location.
This reduces the amount of hardware needed and, as a result, enables more effective allocation of resources to provide the flexibility and speed that 5G technology needs to support and sustain ever-evolving workloads.
All computations can now be done on a device locally and at the edge, meaning at or near the source of data. This greatly reduces latency and increases data transfer rates, which, in turn, reduces response times.
To learn more about how 5G technology enhances high-performance computing architectures, click here.
4G vs. LTE. vs. 5G
4G (Fourth Generation) is the fourth iteration in a line of mobile networks, with broadband capabilities and speeds that are much faster than the previous generation, 3G.
But there is a huge gap between 3G and 4G, and companies wanted customers to know that they were receiving service that was better than 3G, even if it wasn't officially part of the next generation--in this case, 4G.
Thus, the name LTE, or Long Term Evolution, was born to indicate an "in-between" point between 3G and 4G while signaling progression to the next generation.
5G is the latest mobile network that delivers faster speeds, lower latency, and enhanced connectivity for greater reliability.
Back to top
5G Edge Computing Technologies
Let's take a look at some of the key 5G technologies:
Radio access network (RAN)
What is it?
A RAN (radio access network) is a network infrastructure consisting of radio base stations with large antennas; it is commonly used for mobile networks to wirelessly connect user equipment.
How does it fit into 5G edge computing?
As devices become more interconnected, RANs provide the connectivity needed to support 5G networks.
But traditional RAN architectures may not be able to handle the massive amounts of data generated by these devices.
To this end, virtualized RANs (vRANs) provide the scalability, automation, and performance needed to adequately support the ever-evolving demands of 5G networks.
Back to top
OpenRAN
What is it?
OpenRAN is a type of RAN architecture characterized by the interoperability, flexibility, and standardization of RAN elements.
This variation of RAN allows network operators access to an array of vendors from which they can choose parts to construct their RAN architectures--hence "open."
OpenRAN seeks to reduce operational expenditures (OPEX) and total cost of ownership (TCO) through the implementation of vRAN principles.
How does it fit into 5G
edge computing
?
Within OpenRAN architectures, the BBU (baseband unit)--which takes signals from the remote radio unit (RRU), processes them, and forwards them to the core network--is virtualized.
There are multiple virtual BBUs for every RRU, all kept within a centralized location. This helps reduce costs, increase scalability, and maximize efficiency, all of which are essential to deploy 5G networks for a variety of use cases.
Back to top
Intel® FlexRAN
What is it?
Intel® FlexRAN is a fully virtual, cloud-native type of vRAN that simplifies resource use and separates networking functions from hardware.
FlexRAN uses one piece of hardware across the network, the RAN, and the edge, which, in turn, reduces costs and increases flexibility.
How does it fit into 5G
edge computing
?
Within 5G networks, Intel® FlexRAN's capabilities provide the added benefit of strengthening communications and increasing data flow within and between devices, especially within harsh environments.
This is a key component of why 5G technology is used for military applications such as EW, C6ISR, and SIGINT.
In addition, FlexRAN keeps the amount of hardware used to a minimum, all without loss of performance.
Back to top
Intel® Smart Edge
What is it?
Intel® Smart Edge is software that delivers optimized networking, artificial intelligence (AI), and security both on-premises and at the network edge.
Run on Intel® Architecture, Smart Edge enhances security, simplifies networking, enables workload convergence, and provides ease of use.
How does it fit into 5G edge computing?
Along with advanced networking and security features, Intel® Smart Edge also supports containerization, meaning applications are carved up into smaller, virtual units called microservices and stores them inside containers.
This reduces memory, disk space, and the amount of expensive hardware that is used, which, in turn, helps streamline and scale 5G network deployment.
Smart Edge also allows data to be communicated with minimal interference that results from overload or unauthorized access, a key component to a reliable, resilient 5G network.
Back to top
Network slicing
What is it?
Network slicing is the creation of multiple virtual networks on top of one shared physical network, allowing for the greater flexibility that is needed to support multiple RANs.
How does it fit into 5G edge computing?
With a 5G network architecture, network slicing can enable the partitioning and virtualization of the core network.
This allows the network operator to physically segregate traffic of different RANs, slice a single network, or combine many networks while slicing the shared resources.
Network slicing also allows network operators to increase efficiency through minimizing throughout, prioritizing delivery of data packets, and supporting optimal connection density.
Back to top
Public and private networks
What are they?
A public network is a wired or wireless network that anyone can access, allowing for connection to other networks and/or the Internet.
A private network is any connection within a specified wired or wireless network, but these networks have restrictions in order to limit access to authorized personnel.
How do they fit into 5G edge computing?
Both public and private networks can enhance 5G networks, as they both provide high throughput and low latency.
However, as devices have become more virtualized and interconnected alongside evolving 5G technology, private 5G networks have become more popular due to their more secure operation. This, in turn, gives those who use private networks more control.
Back to top
Licensed and unlicensed spectrum
What are they?
Licensed spectrum is a part of the electromagnetic spectrum assigned only to mobile network operators (MNOs) for independent use; it requires companies to pay a licensing fee to transmit on a certain frequency.
Unlicensed spectrum is a part of the electromagnetic spectrum that can be assigned to or shared with anyone, though it is still subject to some regulatory constraints.
How do they fit into 5G edge computing?
Within the world of 5G, licensed spectrum is preferred for long-term, reliable service, as it provides wider coverage, exclusive access, enhanced performance, and can support high usage.
This, in turn, enables low latency connectivity, security, and rapid data transfer between devices in real-time.
Back to top
SIM cards
What are they?
A SIM (Subscriber Identity Module) card is a tiny, portable memory chip for mobile devices that stores user identification information such as a user's identity, phone number, contact lists, and messages.
How do they fit into 5G edge computing?
Certain SIM cards are compatible with 5G, delivering benefits such as identity privacy, cybersecurity, resiliency, network confidentiality, and roaming.
Back to top
5G frequency bands
What are they?
IoT devices communicate via radio waves--electromagnetic radiation that transfers data. These waves are divided up into frequency bands, which have three variations: low-band, mid-band, and high-band.
How do they fit into 5G edge computing?
5G frequency bands can be used within private 5G networks to provide high-quality service and eliminate dead zones.
5G technology can avoid the reflection or blocking of high-frequency signals by transmitting across these frequency bands.
Back to top
Trenton's IES.5G solution
Trenton Systems' high-performance computing solutions support 5G technology to provide virtualized, cost-efficient, low-latency networking across all domains, in the harshest of environments.
Our new IES.5G solution is a zero-trust architected, integrated edge solution that uses enhanced 5G connectivity to provide users with maximum compute power, storage capacity, intelligence, and bidirectional communication across the air, land, sea, space, and cyber domains.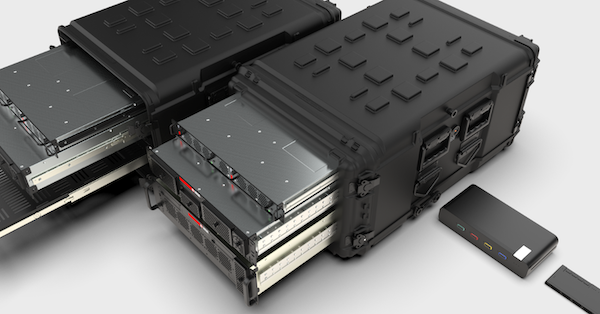 Scalable, interoperable, and TAA-complaint, the IES.5G is an end-to-end, JADC2 solution that connects military comms systems with 5G technology for rapid, secure deployment to deliver immediate, actionable insights.
In partnership with Intel® and Capgemini®, the IES.5G is structured around 5G O-RAN architecture, using highly configurable, SWaP-C optimized modular and non-modular rack mount servers and small form factor mission computers to support ever-changing military and critical infrastructure applications.
Back to top
Final thoughts
5G capabilities are enhanced by various technologies, networks, and hardware that ensure compute architectures are equipped to securely process, analyze, and transmit the massive amounts of data generated by IoT devices.
Companies like Trenton Systems, Intel®, and Capgemini® utilize these technologies within integrated solutions such as the IES.5G to enhance compute and connectivity at the edge, even within communications-denied and -contested environments.
5G technology is especially useful within a military environment because 5G-powered systems quickly deliver critical intelligence needed for warfighters to increase awareness of their surroundings in order to effectively detect, track, and engage with enemy threats.
Want to chat more about our 5G capabilities? Just drop us a line anytime here.
We'd love to hear from you and help in any way that we can. 🙂