How To Find Trusted Computer Manufacturers Truly Made In The USA
by Yazz Krdzalic, on Oct 12, 2018 9:28:35 AM
"Wait a minute. You make your own boards?"
I've spent the last 1.5 years relentlessly studying the world of rugged, high-performance computing. In-person interviews, phone calls, meeting after meeting, podcasts, webinars, forums, magazines (yes, they still exist), and of course search engines.
From competitor analysis inquiries like "rugged computer manufacturers" to studying thorough explanations of compliance standards that I happen to see listed across various datasheets.
Often times, my search leads me to page 5 [and on] of Google looking for new and interesting pieces of info that tell me something I don't know.
I call this: "Put yourself in the customer's shoes".
Sidenote: For a fun-to-watch video on YouTube, search for "MIL-S-901D Barge Test". Yes, I'm at that point where this is actually cool. Don't judge.
But then, I hit a roadblock
In my quest, I stumbled across something that still confuses me a bit. Well, it just seems that there is no consensus on the true definition of the phrase.
What is it?
"US Computer Manufacturers".
Google spits out about 260,000,000 results in less than a second. Impressive! Or so I thought.
The moment you start clicking through the pages, you quickly find that these are lists of companies that are located within the United States but don't necessarily manufacture the hardware state-side.
The question of the century
If I am confused, the customers must be furious. After all, what qualifies a company as being "Made in the USA"?
Is it the physical location?
The Sales Team? Support?
I thought it was about the manufacturing process.
Did you read the recent news about how China used a tiny chip to infiltrate U.S. companies? Makes me cringe thinking about the possibility of being exposed like that. Surprisingly enough, via a "Made in USA" company.
Nevertheless, I'd like to clear the muddy waters, uncover the veil of mystery - however you'd like to put it - let's set some standards that places everyone claiming to be a "Made in USA computer manufacturer" on a level playing field.
It's time for some rules, regulations, and standards.
What set this goal of standardizing "Made in USA" in motion?
"Yes! We design, manufacture, assemble, integrate, and support our rugged computers in the USA." - Dwight Justice, VP of Sales at Trenton Systems
On a recent visit with a potential customer, an attendee had somewhat of an "Aha!" moment.
As our Team is going through slides about the importance of partnering with a trusted Made in USA computer manufacturer, a gentleman stops the meeting and says:
"Wait a minute. You mean to tell me you design your own SBCs right here in the United States? That changes everything!"
It's exciting to witness someone fully grasp the difference between "Made in USA" and MADE IN USA. This very moment is the reason behind my goal of defining this phrase.
Everyone needs to have an "Aha!" moment.
When you do, you'll understand what it is that Trenton Systems does differently and what it means to be a true Made in the United States High-Performance Computer Manufacturer.
So, what standards does the industry need?
When you start to ask the right questions, you'll see that there are multiple layers to understanding your rugged computer manufacturer.
We'll go over the different layers shortly.
Before we can talk about the layers in detail, let's make sure we understand the differences between "manufacturer" and "supplier".
A high-performance computer manufacturer is a builder of products. Think of a manufacturer like a producer or craftsman.
A computer supplier is a company that supplies the parts, whether they created them or not.
A manufacturer can be a supplier, and vice versa, but be sure to ask for clarification, otherwise you may just be dealing with a 3rd party integrator (strict supplier) where some or all components are sourced offshore.
The 6 Pillars of a True Made in USA Computer Manufacturer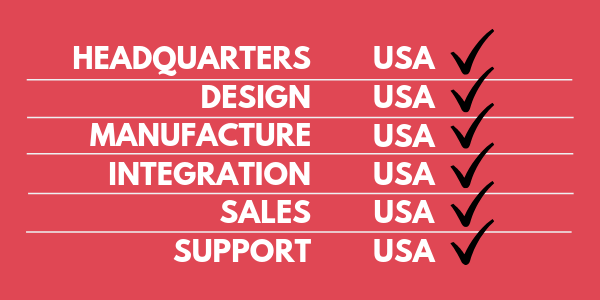 If you've made it this far in the blog, you're just about ready to dive into the 6 pillars you must question in order to confirm whether your computer manufacturer/supplier of choice is truly US-made.
This very simple image alone can paint a picture of what some companies hide behind when they claim "Made in USA".
As you may have guessed, a rugged computer manufacturer may only qualify for one of the 6 pillars listed and make the same claim - but are they truly made in the US if only their Sales Team is in the USA?
I think not.
Let's dive deeper into each pillar and go over important aspects of each, starting with...

"Trenton Systems headquarters are located in Lawrenceville, GA, USA!"
It's important to know that the headquarters of the computer manufacturer is in the United States. Companies can claim that they have multiple locations in the US, but if the headquarters is offshore, that disqualifies you from stating you are made in the US.
Although important, the physical location still does not guarantee the product being American-made.
You have to start thinking about the engineering team behind the product to answer that question.

"Trenton Systems designs products in-house, right out of our headquarters."
This is a vital pillar that can make or break a rugged computer manufacturer/supplier.
If the Engineering Team is not state-side, how do you expect flawless communication or that the product won't be tampered with in any way, shape, or form?
You simply can't.
The Engineering Team that is in charge of designing the high-performance computer that will soon run your most complex applications must be in the US.
Can you call your manufacturer today and ask them to speak to the Engineer who helped design a component within your system? Is that Engineer in the United States?
Companies can hide their Engineering Team for this very reason and boast about their manufacturing capabilities instead.
Which brings us to the next pillar.

"Trenton Systems manufactures backplanes, SBCs, motherboards, rugged chassis, and entire computer systems in the United States."
So let's say the manufacturer does not actually manufacture the products in the United States but offshores them elsewhere to save a buck or two. How are they even a manufacturer let alone made in the United States?
Since most don't ask, they won't willingly tell either.
It happens more than you'd think that the 'manufacturer' you are working with is hiding in plain sight as a supplier of 3rd party components. An integrator at best.
Remember this cheesy little phrase: Integrators need interrogators.
On many other occasions, they will manufacture the metal in the US, which is bare metal, but everything else is done elsewhere - still they claim US-made computer manufacturer.
You need to be direct with your questions and ask what part of the manufacturing process they actually own. If you are purchasing a system, question the individual components. No, I am not talking about "did you make your own CPU?" rather the bigger pieces like the motherboard, backplane, or singe board computer (sometimes referred to as processor board).
If the SMTs are done in China, for example, then shipped to the USA to be integrated into in a chassis, would you consider your product "Made in USA"?
Again, I would not. Read the hardware hack article again. This is why.
You need to trace back as far as you can to rest assured that the computer manufacturer, is in fact, owning the most important processes in the supply chain. This protects/secures your high-performance computer system from hardware or software hacks and validates that it is truly made in the USA.
We briefly touched on integration, let's dissect that a little further.

"Trenton Systems assembles all products - backplanes, SBCs, motherboards, and chassis - in-house - then integrates all components per your specs and requirements."
Let's say you have checked everything off your list as "Made in USA" thus far. You think you're in the clear, after all, the Engineering Team as well as the Manufacturing is done in the US.
Wrong!
The integration can still be done offshore. Keep in mind, cutting cost is more important to some than the validity of a claim they make on their Marketing collateral.
The product that you are holding in your hands may be US-made, but it has been integrated elsewhere. Don't you think that still puts your security at risk? What can happen during integration that you don't want to happen?
Think viruses or spyware on your hard drives. Before you, as a customer, receive the final product, you may already be compromised. Not good.
This is yet another loophole for possible hacks or hits on quality control.
Your Account Manager, or trusted adviser, should be able to answer this question with ease.

"Trenton Systems' Sales Team is under the same roof as our Engineers, Support Technicians, and Management Teams."
This may not be an important factor to consider, at first, but wouldn't you want your Account Managers shoulder-to-shoulder with the Engineers who designed the system you're currently purchasing?
The technical knowledge available at any given moment is much higher than if this wasn't the case. You no longer have to route through a million departments (which some may even be offshored), rather you have ONE contact, the same contact that initially spoke to you when you ordered the systems.

"Trenton Systems' Support Team works with our Engineers, they are actually part of the same group. They have a local phone number where you can talk to them directly. No re-routing, no miscommunication. The two teams meet on a weekly basis to go over concerns and how to solve them. That's customer service at its finest!"
When we talk to potential or existing customers, this one seems to hit home 10 out of 10 times. When I start to question why this is so important, the same answer is provided no matter the customer:
"By the time I reach someone who can support the product on a technical level, may as well try to figure it out myself. You just can't seem to get anyone on the phone to answer pressing questions right away. So what ends up happening is our customers look at us as the problem. Not good for business."
Now imagine if you could call your personal Support Technician who speaks your language (#technical) and is located in the United States. Wouldn't that be delightful?
You can, and you should.
When screening a potential hardware manufacturer, make sure to ask them about their Support Team. Where are they located physically? If in the United States, are they in the same building working for the same company or are they outsourced to a different vendor?
Conclusion
At the end of the day the latin term "caveat emptor" applies. Buyer Beware. It is up to you, the customer, to ask the right questions at the right time.
HOWEVER...
That does not mean that the industry's secrets are to be kept as that - secrets. It's my goal to be transparent and have you make the decision on whom you would like to trust with your next program/project.
It's an investment for a few years, and this investment better be with someone who will be there with you at all times, answering pressing questions when you need them, and assuring that your satisfaction is their top priority.
If you are currently debating between computer manufacturers/suppliers, ask them the questions you've learned in this article. See how they square up to the interrogation.
Of course, I'd like for everyone to consider Trenton Systems for their next application. It's expected for me to say so, but don't just take it from me. Contact us for references. We'll let you talk to our current customers, some of which have been with Trenton Systems for decades.
Also, you don't have to talk to Sales. I encourage you to speak to our Support Team. How about an Engineer? We have them in-house ready to take a phone call whenever needed.
Hopefully you've learned a lot in this blog post, and if you do have questions, feel free to contact me personally. I'll do my best to get an answer for you the same day.
We're kind of known for it, so the pressure is on.
Hope to talk to you soon.