Quickly deploy an integrated, secure battlespace-ready 5G solution
by Robert Haag, on Jun 13, 2022 9:23:06 AM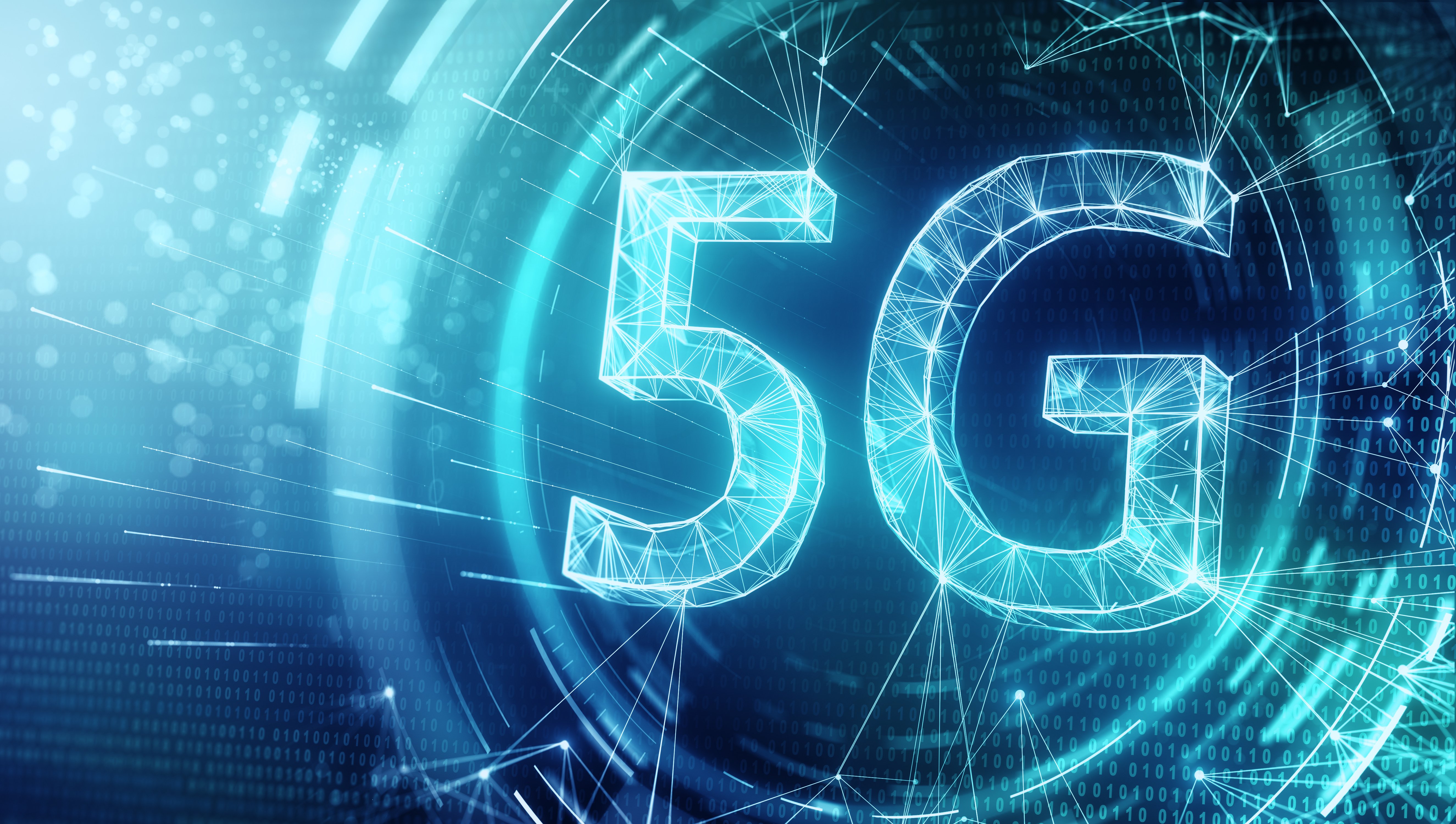 Engineered to deliver immediate, actionable insights at the edge, Trenton Systems' IES 5G Solution is easily deployed at the strategic, tactical, and operational levels for instant communication and real-time data analysis.
Today's challenging atmosphere
Across the battlespace, calculations are performed in distant data centers, resulting in low data transfer rates and frequent delays. This impedes performance and increases response times, especially in communication-denied and contested environments.
As C6ISR, signal intelligence (SIGINT), and electronic warfare (EW) systems continue to revolutionize modern warfare, today's military personnel need computing solutions that can help reduce application latency, facilitate rapid data transfer, and accelerate the delivery of real-time, actionable insights.
In addition, the modern military landscape is currently adapting to increasing interconnectivity between devices, further promoting the need for flexible, agile, and resilient solutions that can seamlessly analyze and communicate the massive influx of data in real-time.
These high-performance computing solutions must thrive at the tactical edge in austere, communication-contested environments to enable prompt and decisive action anywhere, anytime.
Challenge One: Real-time, local data analysis to enable immediate, decisive action
Available raw data has risen exponentially, which means more data is available to train AI/ML/DL algorithms for operational decisions.
However, this poses a challenge as large, centralized data centers currently limit AI. The information must travel from the device to these processing centers, taking enormous time. We are speaking in milliseconds, which may seem extremely brief, but this is all it takes to detect and retaliate against an enemy threat in the field.
Computing so far from the edge decreases throughput and reliability, preventing the timely delivery of metrics needed to bolster and enhance situational awareness and, as a result, shorten response times.
Challenge Two: Enablement of network virtualization
As discussed previously, with the increased interconnectivity of devices, more data for critical decision-making has become available. Yet, current hardware needs to be upgraded to enhance the communication and distribution of this data.
Radio Access Networks (RANs) play an active role in communicating information to a core network. A RAN is a network infrastructure that connects a device to a core network. Data is first received via antennas. It is then communicated to the Baseband Unit (BBU), which sends the data from the RAN node to a core network via backhaul infrastructure.
A typical 5G network deployed today includes the major functions outlined in this figure: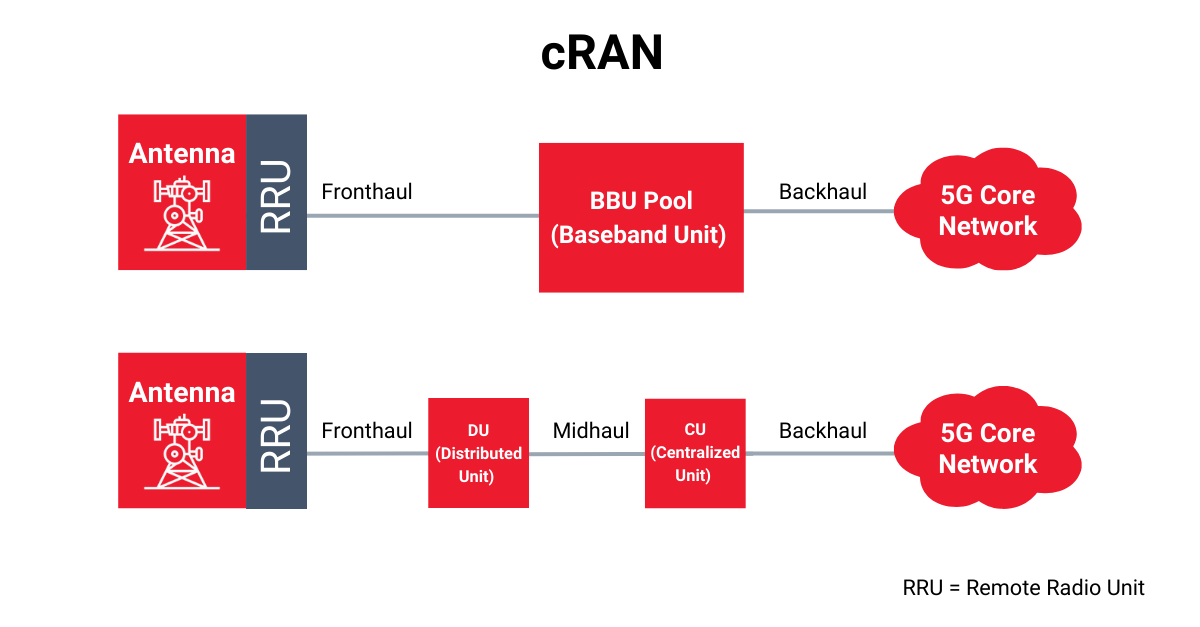 In traditional RAN architectures, the BBU pool is spread out among multiple pieces of hardware and can only handle a limited number of RANs.
Recently, industry has provided innovation to virtualize the RAN, turning the hardware-based functions of RAN into software based virtual RAN, "vRAN."
However, the current hardware that supports RANs is not equipped to handle the virtualization of multiple RANs, impeding performance through low data transfer rates and high latency.
Challenge Three: Maintaining clear, open communication across all environments
Calculations are performed in distant data centers, so military personnel must wait for the data to be processed and delivered. The distance data must travel poses a severe risk, especially in situations where communication is constricted—whether it be due to harsh weather conditions, signal interference, or unauthorized access—where data simply cannot travel across networks.
A lack of clear communication, lower data transfer rates, and higher application latency impede performance in environments flooded with complex and competing signals from warfighters and their enemies alike, where decisions need to be made in seconds.
An Integrated Edge Solution: The IES 5G
For 5G technology to thrive, it requires a proper hardware and software infrastructure to de-load the core network and allow for better, localized data management.
With enhanced computing, storage, and intelligence capabilities, Trenton Systems' IES 5G solution introduces today's warfighter to the next generation of 5G-enabled computing solutions needed to achieve effective operations in environments that impede communication, compute capabilities that exceed the demands of extensive virtualization and complex AI algorithms, and hardware that is hardened to protect sensitive data traveling at 5G speeds to and from interconnected devices across the domains of the battlespace.
Equipped with high throughput and low-latency connectivity, the edge nodes, controllers, and baseband units inside the IES 5G provide computing, storage, and networking capabilities to manage vast amounts of data generated from many sensors and devices.
The hardware systems are also fortified by Intel's Smart Edge software, which enables enhanced security, simplified networking, and workload convergence and helps to quickly and efficiently deploy edge-centric networks. It essentially allows private 5G networks, a considerable benefit for those within the military and industry looking to detach from public networks to enhance security and performance.
Additionally, with Intel® FlexRAN, the IES 5G can apply network virtualization to run multiple RAN infrastructures in a hyper-converged environment on the same piece of hardware, bridging the gap between IT (Information Technology, data) and OT (Operational Technology, physical world).
Some of the primary benefits of an integrated system are lower costs, higher reliability, transportability, and less equipment to be maintained.
A 5G network with an integrated edge solution and virtualized RAN is outlined below: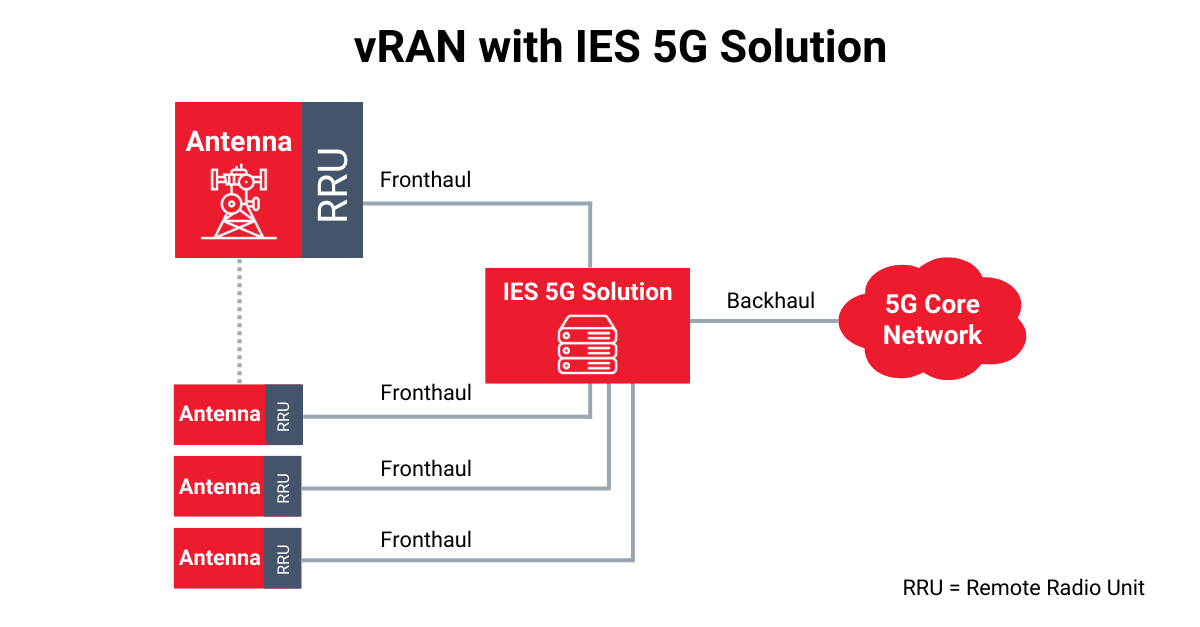 With the IES 5G solution, the BBU and/or DU/CU is compartmentalized in an integrated hardware solution that enables localized management of data and virtualization of multiple RANs for rapid 5G deployment at the edge and accelerated 5G signal to improve transmission in contested communication channels.
How does the IES 5G work?
The IES 5G consists of high-performance computing solutions which serve as nodes of the 5G Core network and exceed demanding vRAN requirements.

Intel® FlexRAN, Intel® ACC100 accelerators, and Intel® SmartEdge Software (discussed in further detail below) help the IES 5G increase data transfer rates and decrease latency to interconnected systems, making critical data available whenever needed as the action is happening in environments flooded with competing signals and other roadblocks to clear communication.
Mobile and SWaP-C optimized, the IES 5G systems are enclosed in shock-absorbent, ruggedized chassis, allowing for transportation on trucks, cars, ships, aircraft, spacecraft, and other vehicles without the risk of hardware damage.
The IES 5G's capabilities and its software and hardware enhancements eliminate possible mechanical and hardware constraints, enhancing connectivity to enable faster, more reliable communication and data analysis.
With an increased demand for USA-made products, the IES 5G is TAA compliant, and designed and manufactured in the United States.
Detailing the IES 5G Integrated System
The IES 5G operates as an integrated edge-computing solution that takes processing capabilities away from data centers onto high-performance computers (HPCs) at the edge or in the field, at the source of data, and accelerates AI workloads in real-time, then sends them over the network using 5G signal.
Equipped with 3rd Gen Intel Xeon Scalable CPUs, the IES 5G is optimized for workloads at the edge and in the cloud. The high-core count processors are bolstered with built-in AI acceleration and advanced multi-layer cybersecurity capabilities that protect your system holistically and greatly reduce the attack surface.
Security features in the 3rd Gen Intel® Xeon Scalable Processors:
Intel® Software Guard Extensions (SGX) help protect workloads at runtime by creating isolated memory enclaves, making systems more resistant to malware and privileged software attacks.
Intel® Total Memory Encryption (TME) enables full physical memory encryption, helping defend against hardware-level attacks such as cold boot, freeze spray, and DIMM removal.
Intel® Secure Boot with Converged Boot Guard and Trusted Execution (CBnT) is a fusion of two powerful boot sequences: Intel Boot Guard and Intel Trusted Execution Technology. These technologies help establish a secure boot and provide the foundation for safe computing.
Intel® Advanced Encryption Standard New Instructions (AES-NI) provides accelerated data encryption without impacting system performance.
Intel® Platform Firmware Resilience (PFR) is designed to protect a server against firmware attacks using a built-inIntel MAX 10 Field-Programmable Gate Array (FPGA), which functions as a confirmation of firmware safety and even enables automatic recovery of corrupted firmware.
In addition to the processors, each server within the IES 5G can host multiple option cards (up to 11 PCIe 4.0 add-in card slots), with the ability to plug in double-wide GPU cards that help accelerate AI workloads and allow various I/O connectivity.
Data is stored on FIPS 140-2 certified self-encrypting drives (SEDs) with Full Disk Encryption (FDE) that meet the U.S. Government's Data-at-Rest (DaR) requirements, protecting sensitive information at the source before it is ever introduced to the network.
Along with these security features, Trenton Systems' secure supply chain manufacturing process helps to ensure that the IES 5G avoids defective and counterfeit parts and components, ensuring system integrity from design to deployment.
Resilient communication through Intel® SmartEdge Software
Equipped with Intel® SmartEdge Software, the IES 5G solution deploys private wireless networks with integrated 5G RAN, 5G Core, and enterprise applications.
SmartEdge has containerized network functions for 5G control planes and user planes to help implement telecommunications edge clouds.
Containerized network functions use less memory and disk space. They carve up applications into smaller units called microservices and store them inside containers. This allows applications that require lots of expensive hardware to start faster, as the amount of hardware is reduced through containerization.
Private wireless networks and containerized network functions helps to streamline and scale the deployment of network functions and 5G services, enabling data to be communicated without the interference that stems from too many people on a network or unauthorized access.
SmartEdge also includes zero-trust security, secure boot, and data confidentiality to ensure maximum critical data protection. Workloads can also be run in trusted execution environments and secure enclaves, protecting data-at-rest, data-in-transit, and data-in-use.
With enhanced networking and security features, SmartEdge optimizes critical capabilities to ensure the development of a genuinely resilient 5G solution that can operate in the harshest of communications-denied environments.
Enhancing vRANs with FlexRAN
The IES 5G is equipped with FlexRAN, a type of vRAN that separates control planes and data planes to improve flexibility and functionality. (Control planes control how data is forwarded, whereas data planes are the actual forwarding process.)
vRANs adapt to network changes much quicker and allow changes without replacing hardware, only needing to update software. Often, this requires just minor modifications to COTS (commercial-off-the-shelf) hardware.
Trenton Systems designs all its boards in-house with strict revision control, dedicated in-house support, and the ability to control and customize firmware. Customers can expect to receive a customized solution from enclosure down to BIOS with lifelong support from the engineers who helped craft the solution.
As mentioned previously, each server within the IES 5G is equipped with Intel® 3rd Gen Xeon Scalable Processors and DDR4-3200 DIMM slots to increase throughput and provide maximum memory support to the CPU, helping to run multiple vRANs at a time. To accelerate vRAN applications, each server can also be equipped with Intel vRAN Accelerator ACC100 adapters.
At its core, virtualizing RANs helps enhance networking capabilities without using expensive hardware, all without performance loss. This helps strengthen communications and data flow to support mission-critical applications with constantly expanding complexity and computing requirements.
Trenton Systems and Intel®: Delivering enhanced connectivity and actionable insights
Trenton Systems is an Intel® Partner Alliance member, an active member of the Intel® IoT Solutions Community, and a participant in the Early Access program.
The Early Access Program allowed Trenton to begin designing the IES 5G solutions around the Intel® Xeon Scalable Processor architecture before the official launch, so customers can access the latest in Intel® technology as soon as it becomes available.
Through our alliance with Intel®, we are empowered with the latest technology from the world's leading innovator in semiconductors, IoT, and data centers to deliver USA-made, cutting-edge products customized to customers' current interests, challenges, and requirements.
Conclusion
The IES 5G is a solution composed of high-performance computing systems with a dedicated 5G base station, edge nodes, and edge controllers capable of connecting to any wireless infrastructure deployed by our military to enable wireless communications in austere environments.
At its core, the goal of the IES 5G is to create ubiquitous communications with a global network to drive AI processing and operational decisions to the edge, increasing situational awareness, reducing decision times, and bolstering resilience and connectivity.
As a 5G Communications System, the IES 5G brings more reliable, higher throughput, secure, and ultra-low-latency connectivity required for edge devices and platforms to fully harness the power of AI and deliver prompt, decisive action across all domains of the modern battlespace.
By integrating 5G, whether public or private networks, with existing military communications, warfighters can achieve more effective operations in communications-denied and contested environments and have access to data to perform their missions anywhere in the world.
Interested in learning more about 5G? Check out some other key 5G technologies that enhance compute architectures here.