Rugged Mini PC vs. Rugged Laptop: Which Is Right for You?
by Brett Daniel, on May 27, 2020 8:00:00 AM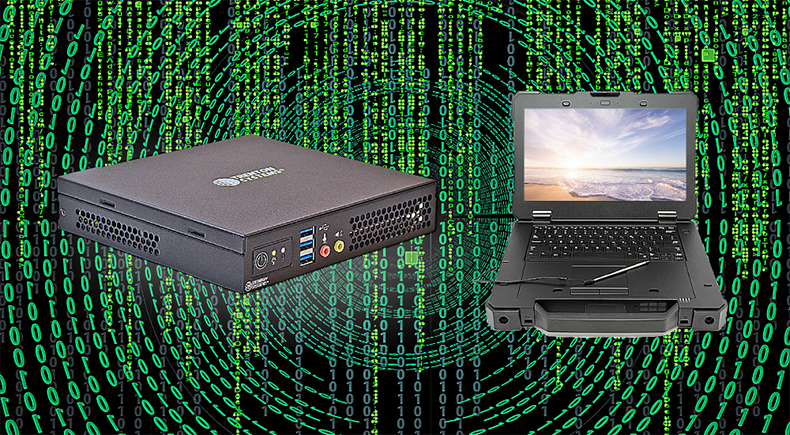 Disclaimer: Trenton Systems does not sell rugged laptops.
Graphic: There are a few key factors to consider when deciding whether a rugged mini PC or laptop is right for your program or application. Pictured are the Trenton Systems ION Mini PC and a generic rugged laptop.
Update 6/22/2020: Interested in learning more about rugged mini PCs? Check out What Is a Rugged Mini PC? and 5 Things to Consider When Choosing a Rugged Mini PC.
If you've ever been in the market for a brand-new rugged computer, you've probably encountered an onslaught of different form factors and configurations, and nailing down the perfect requirements can be an extensive process.
Maybe you need a 5U MIL-STD-810-certified rugged server with 18 PCIe slots or a 1U MIL-STD-461-certified rugged workstation with 7th Gen Intel Core processors.
Deciding on a rugged mini PC or laptop involves the same decision-making process. Naturally, you'll have questions about the processors, the number of USB 3.0 or LAN ports and so on.
But how do you know if you need a rugged mini PC or laptop to begin with?
What are the differences between the two, anyway?
We hope to help you answer that question today.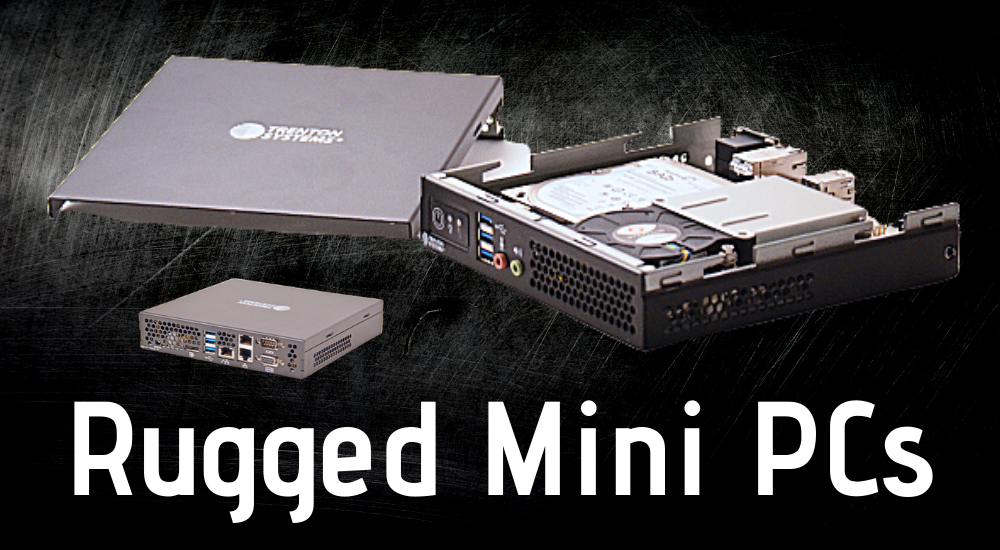 Graphic: Rugged mini PCs usually have a Mini-ITX form factor and are ideal for embedded applications restricted by weight or space.
What is a rugged mini PC?
A rugged mini PC, also known as a rugged mini computer, industrial mini PC or military mini PC, is a small, durable, lightweight computer that has undergone stress testing or military and industrial certification for usage in extreme conditions.
They take up a lot less space than full-sized rugged servers and workstations, making them ideal for nooks and crannies or areas where leftover space could be utilized. They're also less likely to pose a problem for mobile applications where weight control is necessary, such as on board a submarine.
Rugged mini PCs also have a higher degree of portability and can easily fit in the palm of your hand, in a backpack, in a military vehicle or on a rolling computer cart or kiosk. There's no really no shortage of spaces into which these little yet powerful workstations can fit.
To learn more about rugged mini PCs, read our informative rugged mini PC blog post.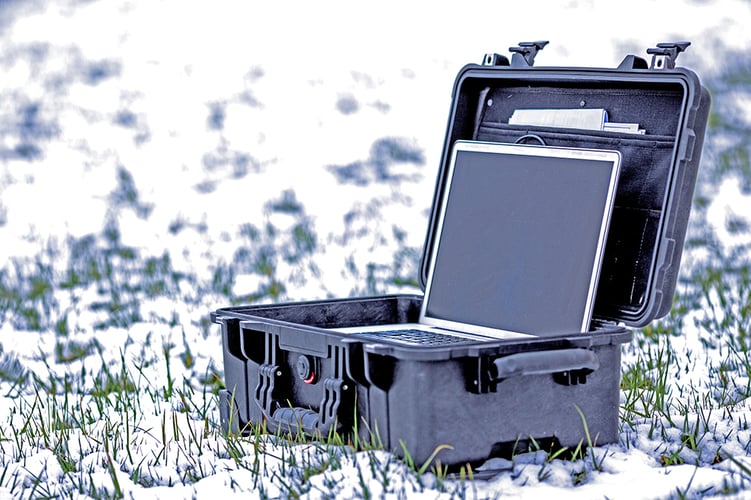 Photo: Rugged laptops emphasize portability and all-in-one capability.
What is a rugged laptop?
A rugged laptop is small, durable, lightweight, clamshell-design computer that emphasizes portability. It, too, has usually undergone some sort of stress testing and been certified to industrial and military standards, such as MIL-STD-810.
Regardless of the certifications, processors or storage options, the portability concept is at the heart of the rugged laptop.
Like their consumer-level counterparts, ruggedized laptops not only need to be relatively lightweight and mobile, but they need to be fully functional the second they're flipped open in the field.
Rugged mini PC vs. rugged laptop: Which is better?
If your program or application requires powerful PCs in a small form factor that won't pose problems with space or weight restrictions, your two main options are rugged mini PCs and rugged laptops.
So, which is better?
The answer to this question is not black and white. In terms of performance, storage, memory and input / output, you actually won't find many significant differences between the two.
Generally, rugged mini PCs can utilize the same processors, storage drives, RAM options and ports as a rugged laptop. It all depends on the configuration you choose and the offerings of the manufacturer.
Instead, we'll need to take a needs-based approach to decide which small rugged computer is right for you.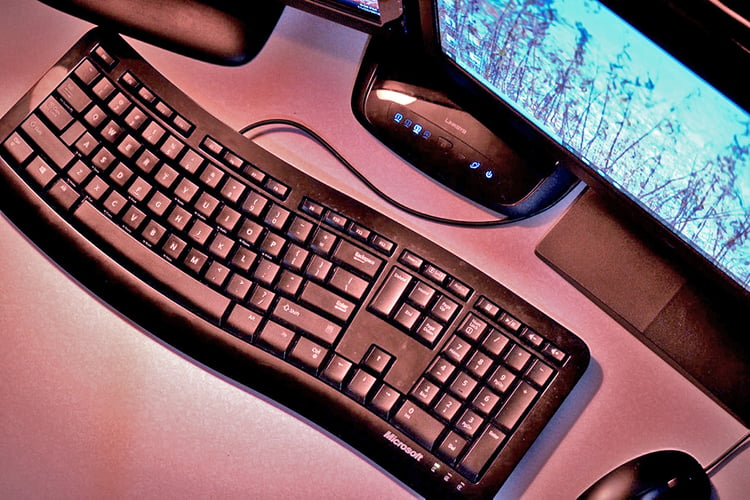 Photo: Usage of peripheral devices deserves ample consideration when deciding whether to equip your program or application with a rugged mini PC or laptop.
Portability and Peripherals
Both rugged mini PCs and rugged laptops offer a high degree of portability. It doesn't matter where you are or where you're going, both of these rugged PCs have your back.
Rugged laptops are all-in-one. The nature of their clamshell design necessitates a built-in monitor, keyboard, mouse and power supply.
Rugged mini PCs, on the other hand, require an external monitor, keyboard, mouse and power supply.
Now, you might think this makes rugged mini PCs less portable than rugged laptops, but nowadays, there are numerous lightweight monitors, keyboards, mice and power supply options on the market.
As a result, you're not looking at too much of a difference in weight regarding ease of portability between the two systems. With the right tailoring, one can be transported just as easily as the other.
And if you're traveling between two places that have these peripheral devices already set up, that further enhances the portability of the rugged mini PC.
Just grab it, pop it in a satchel and go.
Upgradability
Rugged mini PCs generally have a slight advantage over rugged laptops when it comes to upgradability.
Many rugged mini PCs are easily disassembled. Their cases slip off or unscrew easily and make future changes quick and simple. Components can be removed, replaced or upgraded in mere minutes.
Given their all-in-one design, rugged laptops can be a bit more meticulous to disassemble and are quite limited in terms of upgradability, unless you're dealing with a particularly modular model.
Furthermore, rugged mini PCs give you the option of easily replacing and upgrading monitors, keyboards and mice, allowing you to tailor your industrial or military computer down to the last peripheral.
Expandability
Often, rugged mini PCs and laptops are going to be limited or non-existent in terms of PCIe slots. But that's not always the case with small rugged computers.
Trenton Systems is currently working on its COM Express Type 7 embedded computer, which will incorporate opportunities for PCIe-based expansion.
We're also considering adding a PCIe slot to the ION, our made-in-the-USA rugged mini PC released to the world on May 18, 2020.
In addition, our PCIe expansion kits and backplanes allow you to achieve an additional 18 slots per kit using any open PCIe x16 slot on your rugged server or workstation.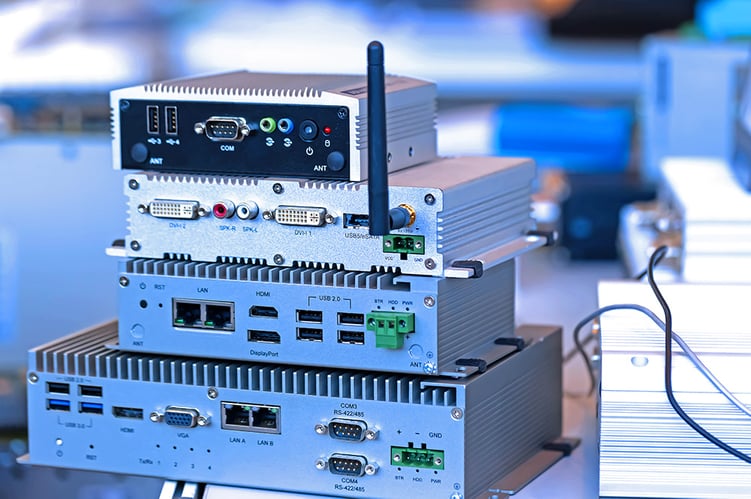 Photo: Rugged mini PCs can support embedded applications, which require system to perform a specific function or task.
Embedded Applications
Rugged mini PCs are great for extreme embedded military, industrial and commercial applications.
They are mountable and able to support dedicated applications with a low-to-moderate workload.
And thanks to their durability, rugged mini PCs can operate in environments with varying extreme temperatures and other harsh conditions.
Rugged laptops can survive these conditions, too, but they're not designed for embedded applications that have a specific, often time-constrained, computational purpose.
Conclusion
To recap, there are few differences between rugged mini PCs and laptops when it comes to high-speed components and overall performance.
Instead, consider things like portability, peripherals, upgradability and usage in embedded applications when deciding.
Now that you know how to better choose between a rugged mini PC and rugged laptop, the next step is configuration.
Let us help you with configuring a rugged mini PC for your program or application today.