An Exclusive Guide to Small Form Factor Mini PCs and Mission Computers
by Christopher Trick, on Oct 10, 2022 2:23:46 PM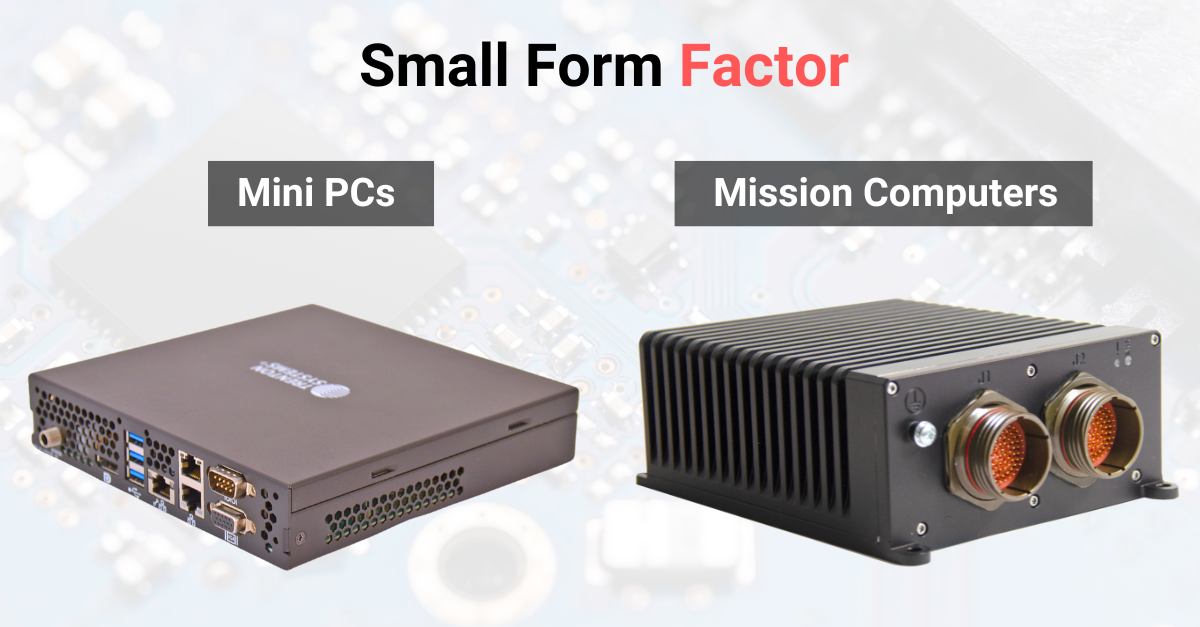 Across the commercial, military, and industrial sectors, customers are looking for lightweight, low-power, and cost-effective alternatives to traditional COTS solutions to meet the demands of an expanding range of applications.
In this blog, you'll learn more about small form factor Mini PCs and mission computers, their major benefits, and how two of Trenton's most advanced solutions come into play.
What is a small form factor computer?
A small form factor computer refers to any computer that is specifically designed to take up as little space as possible.
These devices are designed to be smaller than other similar designs in its field.
Small form factor computers come in all shapes and sizes, with a variety of backplanes, motherboards, and environmental specifications.
Why did the need for small form factor computers arise?
Traditional commercial-off-the-shelf (COTS) solutions are oftentimes too large or costly for new, complex applications.
Small form factor computers emerged in response to these concerns, and many of these systems have proven to be quite effective due to their low-cost, lightweight architecture, low-power requirements, easy upgradability, and ability to operate in harsh environments. (More on this in the next section.)
What are the benefits of small form factor computers?
SWaP-C optimization
SWaP-C optimization means optimized to reduce size, weight, power, and cost.
Due to their small size, small form factor computers take up less space, and they are often lighter than other computing systems, which helps to reduce compute footprint, enhance compute density, and increase portability.
Additionally, small form factor computers use fewer (or no) fans for cooling and low-power hardware, reducing costs, decreasing power consumption and, as a result, avoiding overheating.
Multiple systems can fit into a smaller space, making room for more technology and, as a result, reducing storage costs. With their lightweight architecture, less energy is required to transport these systems, lowering fuel costs.
Modularity and scalability
Small form factor computers are designed with the Modular Open Systems Approach (MOSA) in mind, bringing extensive flexibility and scalability when dealing with legacy or new sensors, networking devices, and onboard systems.
Withstanding harsh environments
Thanks to their ruggedized, hardened enclosure, small form factor computers are able to withstand extreme shock, vibration, temperatures, and humidity, and they can resist the ingress of solids and liquids such as water, dust, dirt, and debris. (More on that later.)
Variations of small form factor computers
Within the commercial, military, and industrial sectors, there are two main types of small form factor computers: mini PCs (personal computers) and mission computers.
What is a mini PC?
A mini PC is small, lightweight, ruggedized personal computer that has undergone extensive testing and certification for usage in extreme conditions and environments.
Mini PCs weigh much less than a full-sized rugged server or workstation, and they take up a lot less space.
For a more comprehensive look at mini PCs, click here.
What is a mission computer?
Mission computers are custom, ruggedized systems that are designed to maximize data processing and meet the most complex SWaP-C requirements.
These computers are often used within the military sector, certified to the most stringent military standards to operate at peak performance within the harshest of environments.
Where does Trenton come into play?
Trenton Systems offers two ruggedized, secure, high-performance computers in small form factor that can be customized per our customers' technical, performance, and environmental specifications: the ION Mini PC and the TAC (Tactical Advanced Computer).
Let's take a look at each:
ION Mini PC
Just 3.2 pounds, the ION Mini PC allows for dedicated data analysis at the edge in a SWaP-optimized solution, allowing military and critical infrastructure personnel to dominate demanding sea, land, air, space, and cyber applications.
The ION can support a single Intel® Core i3, i5, or i7 CPU--the i7 supporting up to 8 cores--to increase processing power; in addition, Intel® Virtualization Technology is embedded into these processors, allowing users to combine multiple workloads onto one system.
The i5 and i7 CPUs are equipped with Intel® Turbo Boost Technology, which increases CPU speeds while staying within temperature and power limits.
The ION also maximizes storage capacity with an internal 2.5" SATA SSD and an M.2 NVMe PCIe card. With up to 32 GB of unfiltered DDR4-2666 RAM across two SODIMM slots, the ION accelerates data retrieval to streamline multiple applications in real-time.
Users can add a 1-piece or 2-piece bracket to the sides of the ION Mini PC, allowing them to mount the system to any surface they desire.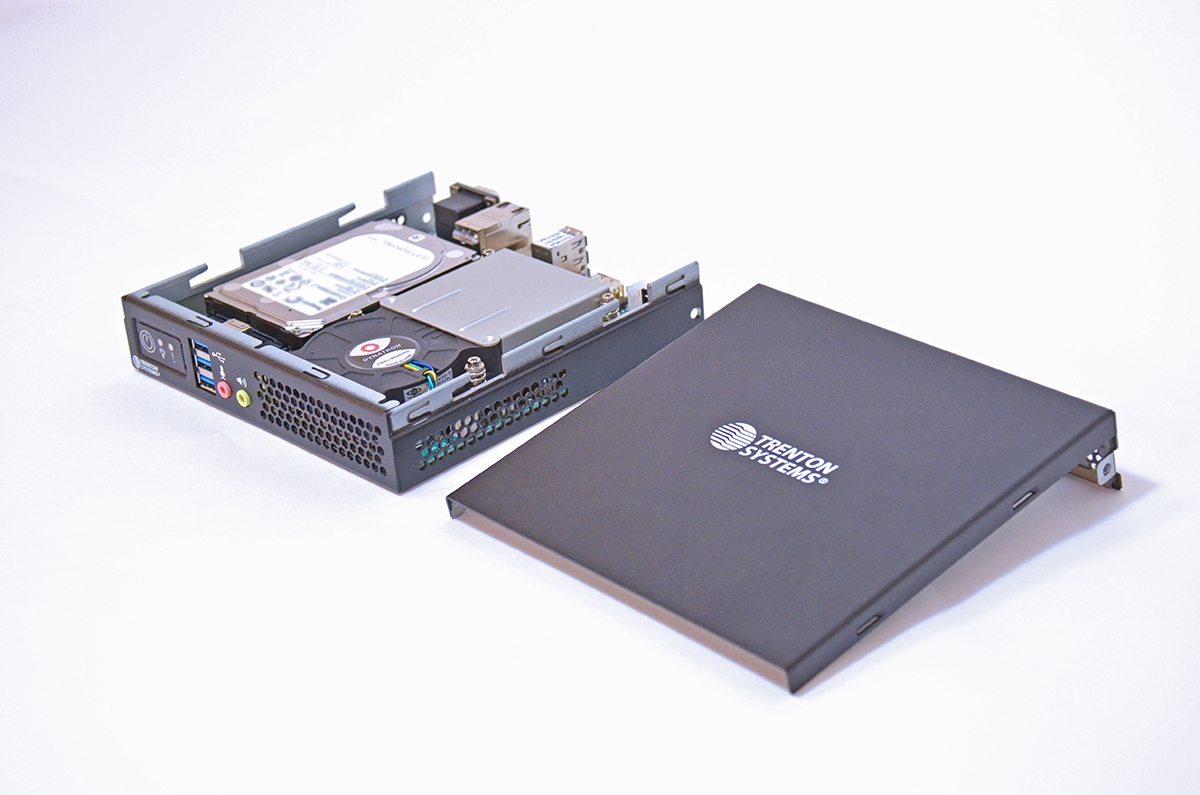 TAC Mission Computers
The TAC (Tactical Advanced Computer) family of small form factor mission computers provides the perfect, all-in-one, SWaP-optimized solution for mission-critical applications across the modern battlespace.
Fanless, sealed, and just under 6 pounds, the TAC is equipped with the latest in embedded computing technology to ensure peak performance within the harshest of environments.
With passive cooling and low-power consumption CPUs, the TAC has low power requirements, avoiding overheating in the field and damage to critical components.
The TAC supports a single Intel® Xeon 1700-D CPU, which has built-in AI, security, I/O, and Ethernet for increased processing and inferencing.
With up to 10 cores per processor, these CPUs allow users to run accelerated workloads simultaneously, control throughput, and enhance data analytics.
Certified to the most complex military and industrial standards such as IP67, MIL-STD-810H, and MIL-STD-901H, the TAC can withstand extreme shock, vibration, temperatures, and humidity while effectively resisting water, dust, dirt, and debris.
The TAC also has two military 38999 connectors, which are a ruggedized, high-performance cylindrical connector family designed to enhance and consolidate cable-to-panel I/O applications; in addition, the TAC can support DDR4-2400 to 2933 RAM as well as front-removable self-encrypting drives (SEDs), keeping large of amounts of data secure, readily available, and easy to access.
There are multiple variations of the TAC in the works, all of which promise to deliver maximum compute power and extreme durability at the edge.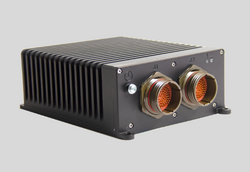 Use Cases
Both the ION Mini PC and the TAC fit seamlessly within the machines of modern warfare including:
Land vehicles

Helicopters

Fixed-wing aircraft

Unmanned aerial vehicles (UAVs)

Naval ships

Submarines
These systems can also be used for a variety of multi-domain applications such as:
Signal intelligence (SIGINT)

Electronic warfare (EW)

Data acquisition (DAQ)

Military satellite communications (MILSATCOM)
.....and so much more!
Final thoughts
Small form factor computers, Mini PCs and mission computers alike, help customers within the commercial, military, and industrial sectors enhance a wide variety of applications that require SWaP-optimized systems with edge compute capabilities.
Extra ruggedized with next-gen Intel® processors, small form factor computers like the ION Mini PC and the TAC are the perfect solutions to help customers bolster performance, increase situational awareness, and strengthen real-time decision-making capabilities in the harshest of environments, in the most constrained spaces.
Trenton's line of custom, USA-made, high-performance computing systems are zero-trust architected, equipped with multi-layer cybersecurity technologies across the hardware, firmware, software, and network stack, to protect data-at-rest, data-in-transit, and data-in-use from unauthorized access.
With a tight grip on our supply chain, we help our customers navigate today's supply chain constraints with risk management methodologies such as BIOS control and customization, a counterfeit parts protection (CPP) program, and the ability to "engineer-in" alternative parts and components.
In addition, we offer a five-year warranty program, strict revision control, end-of-life (EOL) notices, and in-house support to maintain a system's functionality, and, when contractually required, make customers aware when a transition to a new product may be necessary.
Want to learn more about how we can help you configure a small form factor computer for your edge compute needs? Just reach out to us anytime here.
Team Trenton is at your service. 😎👍💯🇺🇸