Trenton Systems hires Bill Davis as Director of Business Development
by Christopher Trick, on Oct 4, 2022 4:28:44 PM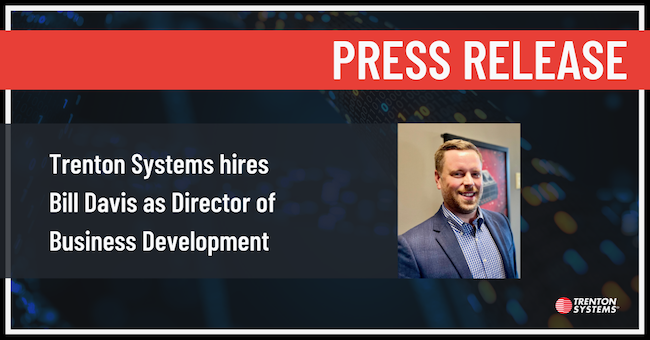 Bill Davis has been a key player within the DoD and military electronics industry for over 15 years. Now, he's bringing his knowledge and experience to Trenton Systems as Director of Business Development.
DULUTH, GA--Trenton Systems has hired Bill Davis as Director of Business Development. Armed with a wealth of knowledge and years of experience under his belt, Bill is ready to help Trenton solidify its position as the leading manufacturer and supplier of USA-made high-performance computing solutions.
"Trenton Systems has an excellent story that fits perfectly into today's ever-evolving commercial, military, and industrial landscape: USA-made computing, multi-layer cybersecurity, and extensive customization capabilities," said Bill. "I'm incredibly excited to be spearheading Trenton's business development efforts to gain a deeper understanding of our customers, help secure major program wins, and play a critical role in influencing the next generation of American-made technology for our warfighters."
Prior to joining Trenton, Bill held various positions within sales, business development, and product management within the commercial and military technology sectors.
Most recently, he served as the Regional Sales Manager for the Northeast for Mercury Systems--his second stint with the company. Before that, he worked for New England Digital Computers, Mercury Systems from 2008 to 2014 as a program specialist and sales associate, The Sproul Company, ThyssenKrupp Materials, and Trilogic Systems.
"What I love most about joining Trenton is that I know that I'll be part of a team that values collaboration across all departments, open communication, and a shared commitment to accelerated, long-term growth," said Bill.
"I'm super excited to have Bill join Trenton Systems as Director of Business Development, a sign that our incredible sales and marketing teams are growing at a rate never before seen in our company's history," said Sean Campbell, Chief Commercial Officer at Trenton Systems. "Bill will be a key asset in expanding relationships with our existing customers and finding new opportunities to help rapidly scale the volume of our business within a short time frame."
A native of Middleton, Massachusetts, Bill has spent his entire life in and around the Boston Metropolitan Area. Bill currently resides in Canton, Massachusetts, with his wife and three sons.
"My wife and kids are the greatest things in my life right now," said Bill. "Between my job and my family, I'm always crazy busy, but I wouldn't have it any other way."
About Trenton Systems, Inc.
Trenton Systems, Inc. specializes in the design, manufacture, assembly, integration and support of truly made-in-USA rugged servers and workstations, processor boards, PCIe backplanes, storage servers, blade servers, PCIe expansion, mini PCs and custom high-performance computers for applications operating in harsh environments worldwide.
Founded in 1989, Trenton Systems provides the defense/military, government, industrial and commercial markets with in-house engineering, testing and support services, computer life cycle planning, revision control, warranty and customization/configuration support.
Trenton Systems' rugged computers and components meet or exceed UL, CE, FCC, and military standards (MIL-STD-810, MIL-STD-461, MIL-S-901, DO-160), are backed by a five-year warranty and lifetime in-house support, and are produced in the company's Lawrenceville, GA, USA facility, which is certified to ISO 9001:2019 and AS9100D quality management standards.
©2022 Trenton Systems, Inc. All rights reserved. All marks are the property of their respective owners. Design and specifications are subject to change.