Trenton Launches New Purley Platform Skylake-SP Host Boards
by Will Shirley, on Jan 3, 2018 1:27:36 PM
Intel® next-generation Xeon® Gold and Silver processors formally known as Skylake-SP and developed under the family codename Purley have released and Trenton Systems is proud to launch two new products based on this architecture. The Intel® Xeon® Gold and Silver processors are supported on our new SEP8253 HDEC Series host board and our MSL8256 Modular Blade Card. Both dual-processor single board computers are designed, built and integrated by Trenton Systems in the USA to exacting quality and longevity standards. We back all our board products with a 5-year warranty, 15 years of processor availability, and free, in-house, limited lifetime technical support.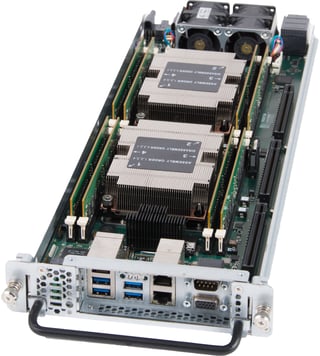 The MSL8256 is a dual processor Modular Blade Card which can be deployed in either a 1U or 2U enclosure, resulting in a single board computer which can be scaled and customized to fit a variety of roles and deployment criteria. The new, Intel® Xeon® Gold and Silver processors are supported, for up to 40 processing cores per blade. Memory support is provided by 8, DDR4-2666 DIMM slots, providing a practical maximum of 1TB of RAM per blade card. Trenton Smart System Management implements IPMI remote management, monitoring and KVM console capabilities over a Gigabit Ethernet port; additionally, the MSL8256 supports dual 10GbE interfaces, and multiple USB 3.0 ports as well as VGA video. Redundant fan modules provide powerful, reliable cooling capability, even in high-temp environments and the onboard Baseband Management Controller automatically adjusts the fans to the optimal speed for keeping the onboard components at the proper operating temperature. A variety of riser card options allows for up to 4 M.2 NVMe or SATA storage devices to be utilized in 1U or 2U configurations, whereas the 2U blade can support up to 2 full-height PCIe 3.0 x16 cards in addition to 2 M.2 NVMe or SATA storage devices.
Both the 1U and 2U blade enclosures are made from cold-rolled steel and lightweight, resilient aluminum to protect sensitive board components. Delrin blade guides along the whole of the enclosure chassis properly and gently align the blade into the proper plane, while also ensuring ease of insertion and removal. This, combined with ruggedized midplane interface connectors that have dual alignment dowels ensure a proper insertion every time and our unique, heavy-duty latching system results in the most ruggedized Blade server system available on the market today. The MSL8256 blades are hot-swappable and have multifunction LEDs and a Power/Hot Swap button on the rear fence which report system health status, provide module locate capability and graceful or immediate shutdown capability.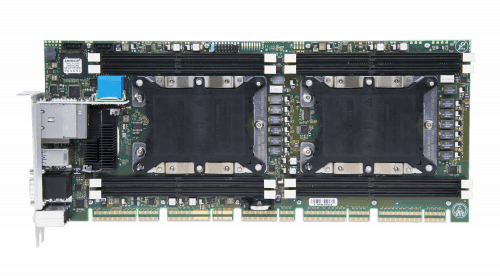 The SEP8253 is the newest System Host Board (SHB) in Trenton Systems' HDEC Series® High Density Embedded Computing family of backplanes, host boards and rugged aluminum, 19" rackmount chassis. A drop-in replacement for the previous HEP8225, the SEP8253 brings support for dual Intel® Xeon® Gold and Silver processors and 8 DDR4-2666 memory DIMMs for up to 1TB of memory to the HDEC platform. Another addition to the HDEC Series is the addition of 8 more lanes of PCIe delivered to a compatible HDEC Series backplane, like the HDB8259, for a total of 88 lanes of PCIe 3.0 delivered directly from the processors to the backplane, for the ultimate in high-performance, flexible embedded computing design when utilizing today's COTS FPGA and GPU coprocessors, fabric interfaces like 50 or 100GbE, Infiniband or NVMe storage. The SEP8253 can be deployed into any current or future HDEC Series compatible chassis in sizes ranging from 2U to 5U.
Onboard interfaces include 4 USB 3.0, 2 Gigabit Ethernet interfaces, 2, 10GbE interfaces, VGA and Serial COMM support, with 6 additional USB 3.0, 6 SATA/600 and various serial, USB 2.0, GPIO, fan speed monitoring and I2C bus signals passed to the backplane. A full-length aluminum backerplate aids in board rigidity and protects sensitive surface mount components while screw-down mounts at the front and rear of the board ensure a secure host board to backplane connection, even in high vibration or shock environments. Trenton's Smart System Management IPMI implementation provides out of band management and monitoring as well as KVM console support.