Trenton Systems announces development of Tactical Advanced Computer (TAC) family
by Brett Daniel, on Jul 13, 2021 11:24:42 AM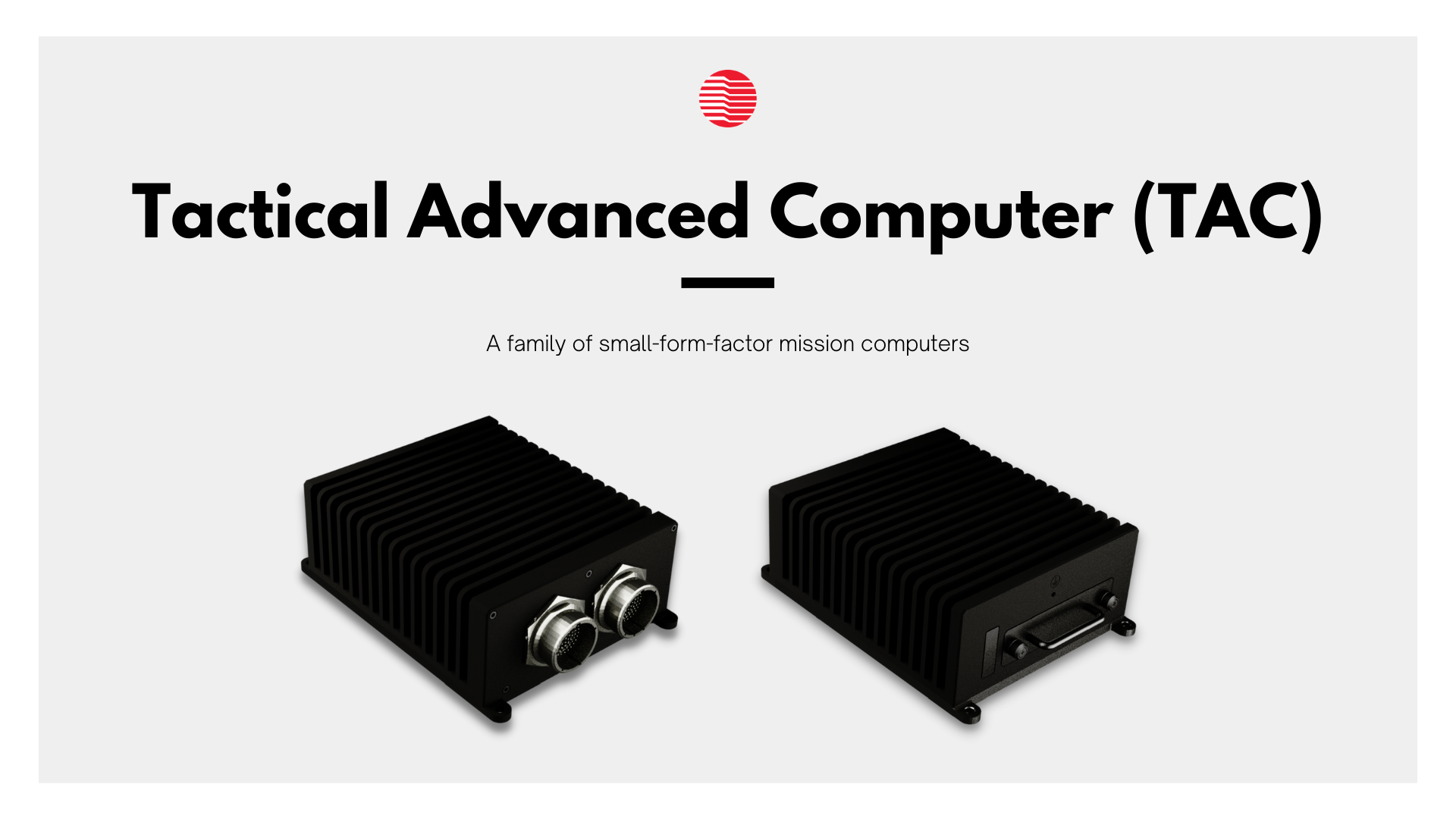 Graphic: TAC mission systems, a family of small-form-factor embedded computers
Trenton Systems, a manufacturer of cybersecure, ruggedized, made-in-USA computing solutions, is pleased to announce the development of the Tactical Advanced Computer (TAC) family, a line of fanless, sealed, small-form-factor embedded mission computers engineered for mission-critical deployments requiring strict SWaP-C optimization and advanced data-at-rest security at the edge.
Tackle dedicated, high-performance tasks in harsh and space-constrained environments, including fixed-wing aircraft, UAVs, helicopters, ships, submarines, satellites, and various land vehicles, with the TAC family's next-generation Intel processors, multiple sealed storage drives, occlusive builds, slimline dimensions, passive cooling, and resistance to rain, dust, dirt, debris, shock, and vibration, all while operating between -40°C and +70°C at 100% stress. Customers can also incorporate NVIDIA GPUs via MXM to boost edge-deployed artificial intelligence (AI) and machine learning (ML) applications.
"Our military and industrial customers have made clear their requirements for high-performance compute power condensed into rugged, cost-effective, multi-purpose embedded computing solutions, secure and proudly manufactured in the USA," said Michael Bowling, CEO of Trenton Systems. "Small, durable, highly configurable, and crafted in our Lawrenceville, Georgia facility by security-conscious engineers, TAC mission systems effectively satisfy these requirements and are easily integrated into a vast range of mission-critical computing systems running high-throughput applications at the edge."
Exceptional data-at-rest (DaR) security is also at the core of the TAC family. Intel TXT and Intel SGX actively protect TAC computers' sensitive data using hardware-based and memory-partitioning mechanisms, while Trenton's proactive supply chain security measures and Counterfeit Protection Program (CPP) significantly improve hardware security and prevent counterfeit parts and components from jeopardizing the safety and functionality of customers' mission-critical systems.
Boost DaR security even further with DIGISTOR Citadel SEDs, military-grade, TAA-compliant, FIPS-140-2-certified, and powered by CipherDrive, the NIAP-listed, CSfC-listed software with pre-integrated pre-boot locking, multi-factor authentication, and an instant crypto-erase function.
"A rapid increase in sensor-acquired data, driven by the growth of the Internet of Things (IoT) and edge computing, has created a larger attack surface for cybercriminals," said Robert Haag, executive vice president of Trenton Systems. "TAC mission systems, equipped with advanced security technologies developed by Intel and Trenton brand partners, are secure by design, protecting sensitive data from the moment of acquisition."
TAC mission systems are designed to meet IP67, MIL-STD-810, MIL-DTL-901, MIL-STD-464, MIL-STD-461, MIL-STD-704, DO-160, 2014/35/EU, 2014/30/EU, and CE. They are also compliant with the Trade Agreements Act (TAA). All Trenton products, including TAC mission systems, are built to last decades, backed by a five-year warranty, and, upon release, are available for pre-deployment testing through Trenton's 45-Day Loaner Program.
For more information about TAC mission systems or to discuss your requirements, visit the TAC family product page.
About Trenton Systems
Trenton Systems designs, manufactures, assembles, integrates, tests, and supports made-in-USA rugged servers, SFF embedded computers, workstations, processor boards, PCIe backplanes, storage systems, blade servers, PCIe expansion kits, mini PCs, and various custom high-performance computers for programs and applications operating in harsh environments worldwide.
Founded in 1989, Trenton Systems provides the defense/military, government, industrial, and commercial markets with in-house engineering, testing and support services, computer life cycle planning, revision control, a five-year warranty, and customization/configuration support.
Trenton Systems' rugged computers and components meet or exceed UL, CE, FCC, ITAR, and military standards (MIL-STD-810, MIL-STD-461, MIL-DTL-901, DO-160, etc.), are backed by a five-year warranty and in-house support, and are manufactured in the company's Lawrenceville, Georgia, USA facility, which is certified to ISO 9001:2015 quality management standards.