Trenton Systems chosen by NASA for asteroid redirection program
by Christopher Trick, on Jun 24, 2022 11:36:30 AM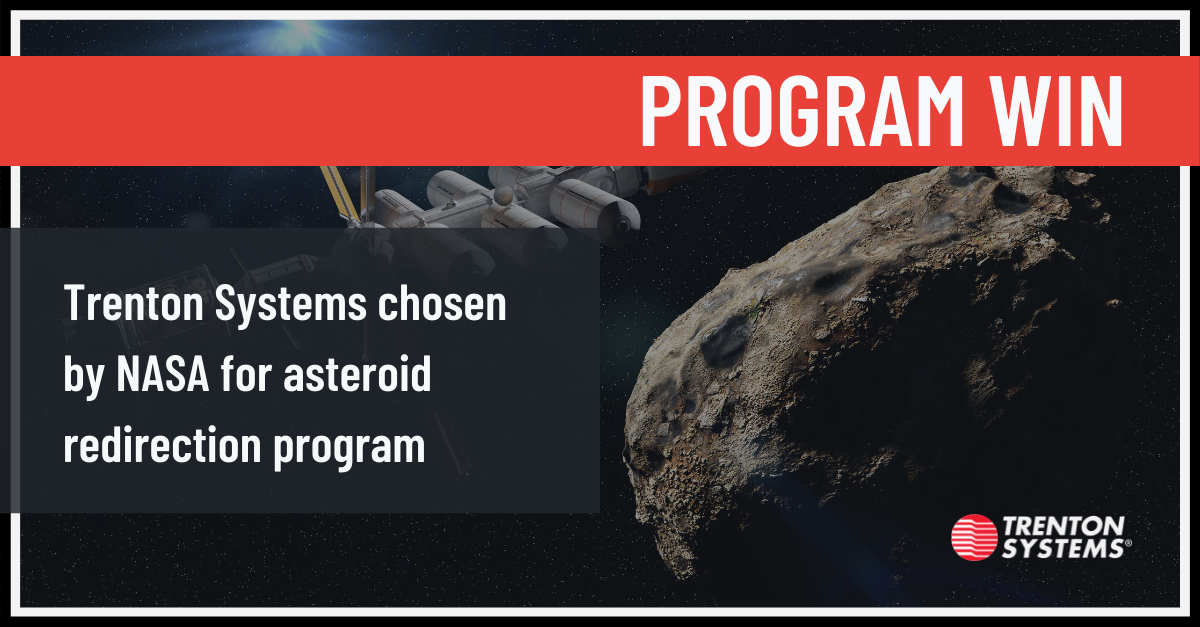 LAWRENCEVILLE, GA—Trenton Systems has been chosen by NASA for the DART (Double Asteroid Redirection Test) program.
The integration of SWaP-C optimized, USA-made solutions is a critical component of this program. This ongoing deployment represents our customers' commitment to Trenton's current and next-gen technologies.
NASA choose Trenton because of our systems' enhanced processing and simulation capabilities, which help to give an accurate picture of real-life scenarios and outcomes within the aerospace and defense sector. This enables the detection of any issues before applications are implemented, maximizing efficiency and safety as well as reducing costs.
DART aims to test whether hitting an asteroid with a spacecraft, also known as kinetic impact, is an effective method of deflecting an asteroid that may pose an impact hazard to earth.
This will be accomplished by hitting the Didymos asteroid system, which comprises a pair of asteroids: Dimorphos and Didymos. Dimorphos, which orbits Didymos and poses no threat to earth, will be the target.
The spacecraft, directed by a sophisticated guidance and control system working together with real-time navigation algorithms called SmartNAV, will travel just outside Earth's orbit around the sun for a period of 10 months, and it is set to intercept Dimorphos between September 26 and October 2, 2022.
The data from the impact will be measured by telescopes on Earth, and the results will help validate and improve scientific computer models critical to predicting the effectiveness of kinetic impact as a reliable method of asteroid deflection.
This type of test is referred to as modeling and simulation (M&S), which is used by military and government agencies to assess and fortify applications before they are used in the command room or on the field.
Lightweight and ruggedized, our BAM servers support single-segment large format backplanes and a single board computer (SBC), either single or dual processor, as well as up to 4 A4000 GPUs. The available backplane options feature extended I/O support for PCIe and PCI-X/PCI plug-in option card slots, allowing for expanded functionality to satisfy a variety of technical and performance requirements.
"For M&S applications, our rack-mount servers easily fit inside a command room to rapidly process and analyze data in real-time, aiding in the testing and optimization of defense measures such as kinetic impact and other C6ISR applications, while also adhering to stringent military standards necessary for optimal performance at the edge," said Jeremy Lee, senior account manager at Trenton Systems.
Supporting military primes and various defense contractors with USA-made, high-performance computing is of utmost importance as the DoD ramps up onshoring of chip fabrication, hardware manufacturing and assembly, and supply chain risk management across the spectrum.
From BAM to TAC, our high-performance compute solutions are equipped with the latest PCIe interface, next-gen Intel CPUs, and NVMe SSDs to help the modern warfighter meet complex challenges, predict risk, and reduce uncertainty.
"Our win is the result of Trenton's unwavering commitment to customizing our products according to customer specifications," said Philippe Weber, director of sales at Trenton Systems. "We supply a range of services to address the unique requirements of any program, no matter how demanding."
Trenton's dedication to this mission continues to play a key role in providing government and military personnel with the equipment they need to advance technologically across all domains of the battlespace.
Trenton Systems' ruggedized, secure, USA-made, high-performance computers deliver immediate, actionable insights to increase situational awareness and shorten response times at the strategic, tactical, and operational levels.