Trenton Systems partners with Intel, Capgemini, and Zscaler to deliver a private 5G SA networking solution
by Christopher Trick, on Nov 6, 2023 2:00:00 PM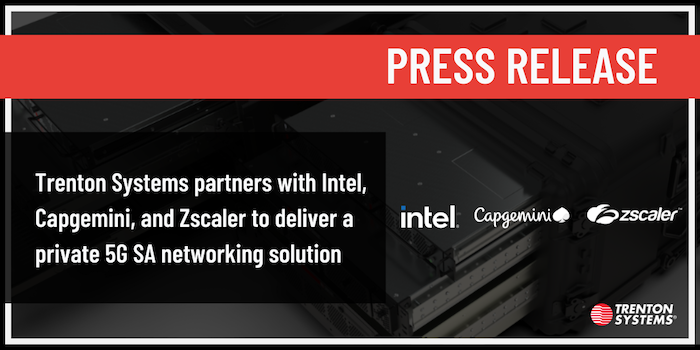 DULUTH, GA - Trenton Systems is proud to present the IES.5G. A comprehensive edge computing solution integrated with enhanced private 5G connectivity and protected by true zero trust with the cutting-edge technologies of Intel, Capgemini, and Zscaler.
This turnkey solution delivers rapid, low-latency, scalable, and secure bidirectional private 5G communication within diverse environments, seamlessly connecting edge nodes.
ORAN-compliant and 3GPP-adherent, the IES.5G's modular and flexible design allows users across the defense, government, industrial, and commercial sectors to architect a turnkey compute and connectivity edge solution for various application or program needs.
At the core of the IES.5G are Trenton Systems' rugged rack mount servers and small form factor computers built to withstand the harshest conditions and extreme temperatures.
Equipped with Intel's high-performance, 5G-enhanced CPUs and other advanced technologies, the IES.5G delivers ultra-reliable low-latency connectivity (URLLC), real-time data processing, advanced analytics, and artificial intelligence/machine learning/deep learning (AI/ML/DL) for seamless connectivity at the edge.
Capgemini brings advanced technical capabilities to the IES.5G as well as their CU (Central Unit), DU (Distributed Unit), and 5G Core software, which can be fully integrated into one system or distributed across multiple systems; in addition, they provide the implementation, orchestration, and management of the 5G SA solution stack.
The IES.5G also leverages Zscaler's industry-leading zero trust, cloud-based cybersecurity platform to provide robust security capabilities, ensuring the confidentiality, integrity, and availability of critical data and applications.
"Scalable, interoperable, and readily deployable, the IES.5G provides a comprehensive, zero trust architected private 5G networking solution that delivers enhanced compute and connectivity for various edge deployments across the defense, government, industrial, and commercial sectors," said Yazz Krdzalic, VP of Marketing at Trenton Systems. "In partnership with Intel, Capgemini, and Zscaler, Trenton Systems now offers a cost-effective, high-performance computing solution ruggedized for the edge and bolstered by the latest advancements of private 5G to enable much-needed performance and connectivity enhancements for edge devices."
The IES.5G seamlessly integrates 5G with other communication frequencies, bridging the gap between terrestrial and non-terrestrial networks. Leveraging the advantages of comms interoperability, this integration ensures reliable and high-bandwidth connectivity in remote and austere environments where terrestrial infrastructure is limited.
Additionally, the IES.5G adheres to industry standards and interoperability frameworks, ensuring seamless integration with existing systems and equipment. The solution supports open interfaces and protocols, enabling interoperability with various command and control systems, sensors, and communication devices. #ORANcompliant.
To learn more about the IES.5G and how you can set up your private 5G SA networking solution at the edge, contact Trenton Systems at 770-287-3100 or info@trentonsystems.com.
About Trenton Systems
Founded in 1989, Trenton Systems provides the defense, government, industrial, and commercial markets with resilient, TAA-compliant high-performance computing solutions designed in consultation with customers.
Trenton Systems specializes in the design, manufacturing, assembly, testing, and support of rack servers, small form factor computers, end-to-end solutions, JBOD storage arrays, PCIe expansion systems, integrations, and processors boards for various applications and programs of record.
All solutions--whether COTS, MOTS, or custom--are engineered within a vetted supply chain and equipped with zero trust security across the hardware, firmware, software, and network layers.
Trenton Systems' rugged computers and components meet or exceed the most stringent military and industrial standards, and are produced in the company's Lawrenceville, GA, USA facility, which is certified to ISO 9001:2019 and AS9100D quality management standards.
Trenton Systems also provides in-house engineering, testing and support services, comprehensive lifecycle management, BIOS customization, strict revision control, and an industry-leading five year warranty program.
About Intel
Founded in 1968, Intel's technology has been at the heart of computing breakthroughs. Intel is an industry leader, creating world-changing technology that enables global progress and enriches lives.
Intel stands at the brink of several technology inflections—artificial intelligence (AI), 5G network transformation, and the rise of the intelligent edge—that together will shape the future of technology. Silicon and software drive these inflections, and Intel is at the heart of it all.
About Capgemini
Capgemini partners with companies to transform and manage their business by unlocking the value of technology. As a leading strategic partner to companies around the world, Capgemini has leveraged technology to enable business transformation for more than 50 years.
Capgemini addresses the entire breadth of business needs, from strategy and design to managing operations. To do this, Capgemini draws on deep industry expertise and a command of the fast-evolving fields of cloud, data artificial intelligence, connectivity, software, digital engineering, and platforms.
About Zscaler
Zscaler accelerates digital transformation so customers can be more agile, efficient, resilient, and secure. Zscaler's cloud-native Zero Trust Exchange platform protects thousands of customers from cyberattacks and data loss by securely connecting users, devices, and applications in any location.
Using zero trust principles, Zscaler helps IT move away from legacy network infrastructure to achieve modern workplace enablement, infrastructure modernization, and security transformation.
Zscaler exists to create a world in which the exchange of information is always secure and seamless. It is Zscaler's mission to anticipate, secure, and simplify the experience of doing business—transforming today and tomorrow.
©2023 Trenton Systems, Inc. All rights reserved. All marks are the property of their respective owners. Design and specifications are subject to change.