Trenton Systems joins Vertical Lift Consortium (VLC)
by Brett Daniel, on Jan 14, 2021 3:23:11 PM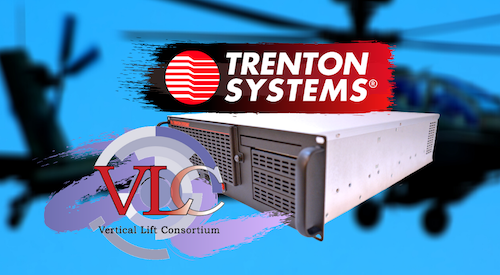 Graphic: Trenton Systems recently announced its VLC membership.
Lawrenceville, Georgia, Thursday, Jan. 14, 2021 – Trenton Systems, Inc., a leading designer and manufacturer of ruggedized, cybersecure, made-in-USA servers and workstations for defense, aerospace, test and measurement, industrial automation, and other major industries, has joined the Vertical Lift Consortium (VLC).
The VLC is a group of more than 200 vertical lift organizations, including original equipment manufacturers, defense contractors, suppliers, engine manufacturers, academic and nonprofit organizations, small vertical takeoff and landing organizations, and the Vertical Flight Society. The consortium focuses on 16 key technology areas, including aeromechanics, rotorcraft structures, vehicle management systems, rotorcraft subsystems, and human systems interfaces.
Trenton Systems will join the ranks of 235 other VLC members, including major industry suppliers of rugged computing solutions.
"We are excited about joining the Vertical Lift Consortium," said Sean Campbell, Vice President of Sales, Marketing, and Business Development at Trenton Systems. "We're glad to contribute to the pool of ever-advancing rotorcraft technologies that allow the DoD to investigate, innovate, and update their current capabilities. This helps invigorate the U.S. industrial base and drives hardware innovation from companies like Trenton Systems."
The VLC's primary goal is to support the United States Department of Defense's Future Vertical Lift (FVL) Program, which seeks to create new and more-technologically-advanced military helicopters and replace models in use since the 1960s and 1970s, by way of a research and development initiative that facilitates the design of innovative prototype aviation technologies.
According to the Army, which is leading the program, the goal of FVL is to develop technologies that improve "maneuverability, range, speed, payload, survivability, reliability, and reduced logistical footprint." The program will benefit all branches of the military and is also one of the Army's top six 2020-2035 modernization priorities.
Trenton Systems, a trusted, longtime provider of cybersecure made-in-USA rugged servers and workstations for U.S. military programs, including those centered around rotorcraft development, is proud to support the VLC in achieving their vertical lift research and development goals for the DoD and helping the warfighters of the future defend the nation.
"The VLC is thrilled to welcome Trenton Systems to the consortium," said Paul Dudley, VLC Managing Director. "Our vision is to be a cohesive national resource, for which various government customers can efficiently access innovative technologies to fulfill critical DoD vertical lift needs. This helps drive innovation and achieve an international competitive edge. We look forward to a very successful relationship with Trenton Systems."
For more information about Trenton Systems or the VLC, visit www.trentonsystems.com or www.verticalliftconsortium.org.
About Trenton Systems, Inc.
Trenton Systems designs, manufactures, assembles, integrates, tests, and supports made-in-USA rugged servers, workstations, processor boards, PCIe backplanes, storage systems, blade servers, PCIe expansion kits, mini PCs, and custom high-performance computers for programs and applications operating in harsh environments worldwide.
Founded in 1989, Trenton Systems provides the defense/military, government, industrial, and commercial markets with in-house engineering, testing and support services, computer life cycle planning, revision control, a five-year warranty, and customization/configuration support.
Trenton Systems' rugged computers and components meet or exceed UL, CE, FCC, ITAR, and military standards (MIL-STD-810, MIL-STD-461, MIL-S-901, DO-160), are backed by a five-year warranty and in-house support, and are manufactured in the company's Lawrenceville, Georgia, USA facility, which is certified to ISO 9001:2015 quality management standards.
About the Vertical Lift Consortium (VLC)
The Vertical Lift Consortium (VLC) is a collaboration of traditional and nontraditional government contractors, small and large businesses, for-profit and not for-profit entities, academic organizations, and their affiliated organizations that works collaboratively with the United States government to develop and transition innovative vertical lift technologies to rapidly and affordably meet warfighter needs.
The government, in partnership with the VLC, operates a coordinated research and development program designed to develop prototype aviation technologies. Under this agreement, the government, along with VLC members, can conduct coordinated planning and research and development prototype efforts designed to encompass the six elements of the Future Vertical Lift (FVL) strategy.
© 2021 Trenton Systems, Inc. All rights reserved. All marks are the property of their respective owners. Design and specifications are subject to change.