Major Military Prime Chooses Trenton Systems for Airborne Application
by Christopher Trick, on Jun 8, 2022 1:36:54 PM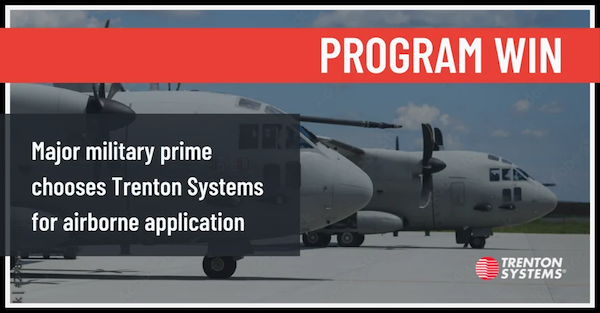 LAWRENCEVILLE, GA—Trenton Systems has secured a multi-million-dollar program win from a major US defense contractor for an airborne reconnaissance application. The integration of secure, USA-made computers is a critical component of this program along with a heavy focus on lightweight rack servers.
The customer chose Trenton because of the modularity and SWaP-C optimization of their solutions, which aid in reducing the total cost of ownership over an extended period of time due to Trenton's extended computer lifecycle. This ongoing deployment represents the customer's commitment to Trenton's current and next-gen technologies.
Trenton's 1U BAM FM, for example, is equipped with two front-removable processor blades each with dual CPUs and a fixed, customizable I/O board for extensive configurability and ease of access. Essentially two systems in one, enclosed in a short-depth, lightweight chassis.
For airborne applications, the 1U BAM FM takes up very little physical space, offers operators tool-less interaction with the system, and saves overall fuel costs as the weight of the solution is minimal, yet adheres to the stringent military standards required on board an aircraft for optimal performance at the edge.
With two 4th Generation Intel Xeon Scalable Processors and high-speed Ethernet, the 1U BAM FM helps enhance AI/ML/DL workloads and big data analytics at the source of the action in real-time, bolstering the output required for electronic warfare (EW), C6ISR, and signal intelligence (SIGINT) applications.
Supporting military primes and various defense contractors with US-made, high-performance computing is of utmost importance as the DoD ramps up onshoring of chip fabrication, hardware manufacturing and assembly, and supply chain risk management across the spectrum.
Trenton's dedication to this mission continues to play a key role in providing the armed forces with the equipment they need to advance technologically across all domains of the battlespace.
Trenton Systems' ruggedized, secure, USA-made, high-performance computers deliver immediate, actionable insights to increase situational awareness and shorten response times at the strategic, tactical, and operational levels.