Trenton Systems expands sales coverage with AeroGear Telemetry
by Brett Daniel, on Dec 8, 2020 11:36:00 AM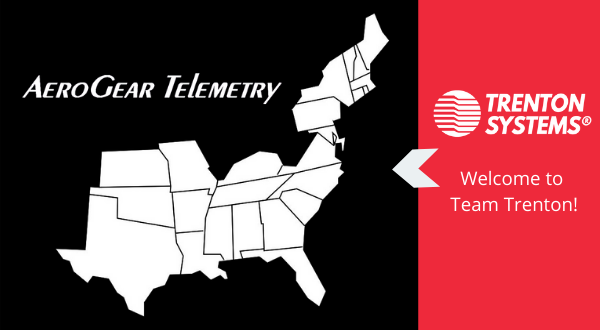 Graphic: Trenton Systems has partnered with AeroGear Telemetry to expand representation in the Southeastern and Northeastern United States.
Lawrenceville, Georgia, Monday, Dec. 7, 2020 – Trenton Systems, Inc., a leading designer and manufacturer of ruggedized, cybersecure, made-in-USA computer systems for defense, aerospace, test and measurement, industrial automation, and other major industries, recently partnered with manufacturers' representative AeroGear Telemetry to strengthen its customer service and solution support capabilities in the Southeastern and Northeastern United States. AeroGear is a proven expert in providing crucial support for flight tests, ISR, and instrumentation applications.
AeroGear Telemetry is a trusted source of industry experts that connect manufacturers with military, industrial, and commercial customers throughout the American Southeast and Northeast. Its primary and extended sales territory comprises 25 states: Texas, Oklahoma, Kansas, Louisiana, Arkansas, Alabama, Mississippi, Missouri, Tennessee, Georgia, Florida, Maryland, Virginia, Pennsylvania, New Jersey, Delaware, New York, Massachusetts, Maine, Vermont, New Hampshire, Connecticut, Rhode Island, North Carolina, and South Carolina. With 18 years of building trusted industry relationships, connecting customers with manufacturers, and offering exceptional customer service to both manufacturers and leading companies in the aerospace, defense, space, and satellite communications industries, among others, AeroGear's talented team of brand partners aligns with Trenton's goals of providing unparalleled solutions throughout the respective regions.
"Trenton Systems is continuing to make big investments to expand our sales channel ecosystem with the addition of brand partners," says Sean Campbell, Vice President of Sales, Marketing, and Business Development at Trenton Systems. "AeroGear has been a key trusted sales resource to principles in the Southeast and Northeast states for decades. Having such experienced access to local relationship experts like AeroGear makes an enormous difference in supporting Trenton's long-term growth. Acquiring quality sales resources remains an ongoing and costly challenge. With the addition of AeroGear as a brand partner, Trenton is ensuring that sales resources in the Southeast and Northeast states with the right skills are in the right geographical location to support and grow our customer base."
Trenton Systems is the newest and most unique addition to AeroGear's list of established technology manufacturers with made-in-USA solutions. AeroGear has established long-term relationships with military branches like the United States Air Force, Army, Marines, and Navy. Some of their most notable work has been with the JAGM, JASSM, and Hellfire programs. Trenton's unmatched portfolio of rack mount, cybersecure, made-in-USA, custom and commercial off-the-shelf (COTS) rugged servers, workstations, blade servers, mini PCs, JBOD storage systems, PCIe backplanes, and processor boards represents a unique, trusted product offering for AeroGear's military, industrial, and commercial customer base.
"AeroGear has 18 years of building strong relationships with the most elite DoD and aerospace programs and customers. Our team of engineering application and sales is very excited at how well Trenton's products and capabilities fit with our customer set," says Joel Weber, President at AeroGear. "Trenton is not the typical commercial computer vendor, but a DoD-level security and application-oriented, made-in-the-USA manufacturer with extensive experience that is a perfect fit for so many high-reliability critical function applications. Projects that need far more than average compute capability will love Trenton's system solutions."
Trenton Systems is excited to welcome AeroGear Telemetry to Team Trenton. With experience in their respective industries, both companies are looking forward to introducing customers to high-performance edge computers, designed, manufactured, and supported in the USA.
About Trenton Systems, Inc.
Trenton Systems designs, manufactures, assembles, integrates, tests, and supports made-in-USA rugged servers, workstations, processor boards, PCIe backplanes, storage systems, blade servers, PCIe expansion kits, mini PCs, and custom high-performance computers for programs and applications operating in harsh environments worldwide.
Founded in 1989, Trenton Systems provides the defense/military, government, industrial, and commercial markets with in-house engineering, testing and support services, computer life cycle planning, revision control, a five-year warranty, and customization/configuration support.
Trenton Systems' rugged computers and components meet or exceed UL, CE, FCC, ITAR, and military standards (MIL-STD-810, MIL-STD-461, MIL-S-901, DO-160), are backed by a five-year warranty and in-house support, and are manufactured in the company's Lawrenceville, Georgia, USA facility, which is certified to ISO 9001:2015 quality management standards.
About AeroGear Telemetry
AeroGear Telemetry was started in 2002 by Joel Weber. His sales experience with companies like Loral Data Systems, Superior Electronics, and Terametrics gave him the experience to build the relationships with key customers that still exist today. AeroGear started with Joel and two other representatives covering the southern United States with a small handful of principals. Today, AeroGear has grown to nine people and includes the Mid-Atlantic states as well as expanded areas of the southern United States.
For more information, contact AeroGear Telemetry at info@AeroGear.us or at 1-561-223-2590.
© 2020 Trenton Systems, Inc. All rights reserved. All marks are the property of their respective owners. Design and specifications are subject to change.