Trenton Systems partners with Ward/Davis to boost West Coast sales
by Brett Daniel, on Jan 12, 2021 4:16:08 PM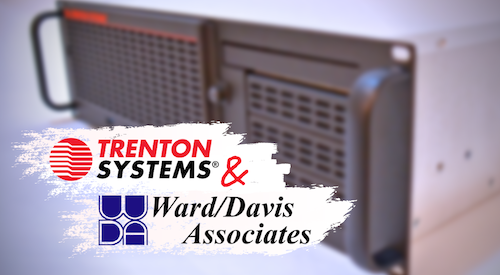 Graphic: Trenton Systems is partnering with Ward/Davis Associates for additional sales coverage in three states.
Lawrenceville, Georgia, Tuesday, Jan. 12, 2021 – Trenton Systems, Inc., a leading designer and manufacturer of ruggedized, cybersecure, made-in-USA computer systems for defense, aerospace, test and measurement, industrial automation, and other major industries, has joined forces with a new brand partner, Ward/Davis Associates, for sales coverage in Hawaii, California, and Nevada.
Founded in 1962 by Eric Ward and Bill Davis, Ward/Davis Associates is a highly trusted, well-established manufacturers' representative comprised of two divisions: Test and Measurement and Embedded Systems, the former of which is WDA's largest and time-honored entity. WDA sells to new and longtime test and measurement and embedded systems customers in Hawaii, California, and Nevada, with main offices in Redondo Beach and San Jose, California.
"We are honored to have Ward/Davis Associates representing our brand on the West Coast," said Keifer Sims, Director of Inside Sales at Trenton Systems. "They have deep relational roots with the type of clients we support best in the military and aerospace communities. This is such a strategic advantage, especially now, when we have been unable to visit our friends in California to showcase our solutions. We are confident that this pairing will be beneficial not only to both companies but to those companies who have trusted Ward/Davis for years and that will now be made aware of our capabilities and how they best suit them."
WDA targets solutions for key markets in its territory, including military, government/aerospace/defense (GAD), test and measurement, semiconductor, electronics, environmental, medical, communication/network, solar, transportation, and utility.
The company is regarded as a Tier One representative with premier test and measurement companies in its portfolio. Trenton Systems will join its growing portfolio of 15 manufacturers served by the company's Embedded Systems Division.
"We are elated about bringing on the talented group at Ward/Davis Associates for Team Trenton," said Sean Campbell, Vice President of Sales, Marketing, and Business Development at Trenton Systems. "Their Embedded Systems Division will be introducing Trenton Systems' hardware while leveraging the company's 50 years of selling to the top military/aerospace/defense, communications, industrial, and commercial customers in California, Nevada, and Hawaii. I have enjoyed many days and nights working closely with the sales team from WDA, closing millions of dollars in deals. I have the utmost confidence in saying that they are some of the best in the business in helping promote first-class companies like Trenton Systems."
Mike Raphael, Sales Manager of Ward/Davis' Embedded Systems Division, says he's excited to represent the computing industry's leading manufacturer of made-in-USA rugged servers and workstations.
"Ward/Davis is proud to be partnering with a premier computing solutions provider like Trenton Systems," Raphael said. "We look forward to bringing their customer-specific-server-and-mass-storage expertise to our customers. Having Trenton Systems as a partner reinforces our position as the top solutions provider in our market space."
To discuss a rugged computing solution for your program or application, contact Trenton Systems at 770-287-1300 or info@trentonsystems.com or Ward/Davis Associates' main office in San Jose at 408-213-1090 or Redondo Beach at 310-643-6977.
About Trenton Systems, Inc.
Trenton Systems designs, manufactures, assembles, integrates, tests, and supports made-in-USA rugged servers, workstations, processor boards, PCIe backplanes, storage systems, blade servers, PCIe expansion kits, mini PCs, and custom high-performance computers for programs and applications operating in harsh environments worldwide.
Founded in 1989, Trenton Systems provides the defense/military, government, industrial, and commercial markets with in-house engineering, testing and support services, computer life cycle planning, revision control, a five-year warranty, and customization/configuration support.
Trenton Systems' rugged computers and components meet or exceed UL, CE, FCC, ITAR, and military standards (MIL-STD-810, MIL-STD-461, MIL-S-901, DO-160), are backed by a five-year warranty and in-house support, and are manufactured in the company's Lawrenceville, Georgia, USA facility, which is certified to ISO 9001:2015 quality management standards.
About Ward/Davis Associates
Ward/Davis Associates is a well-established, trusted, highly successful sales company consisting of two divisions: Test and Measurement and Embedded Systems. The company has a commitment to maintain its reputation, skills, and core values, as well as to exceed the expectations of its customers, manufacturers, and employees.
WDA's operating principles are to be dominant, professional, ethical, enduring, technically competent, and competitive. The company hires the best-available qualified individuals and has earned its reputation by committing to standards of excellence.
When you work with Ward/Davis, you can expect top-notch customer service. WDA staff members pride themselves on fast response times and providing the information you need when you need it, including verbal quotes, written quotes, product literature and application notes, in-person meetings, product demonstrations, staff assistance, and customer service follow-up.
© 2021 Trenton Systems, Inc. All rights reserved. All marks are the property of their respective owners. Design and specifications are subject to change.