Trenton Systems partners with Raytheon to bolster resilient, zero-trust architected computing
by Christopher Trick, on Dec 15, 2022 10:58:19 AM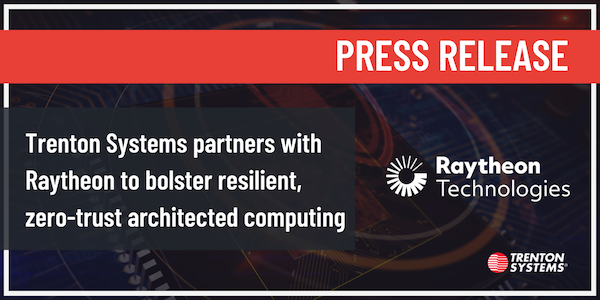 DULUTH, GA -- Trenton Systems has partnered with Raytheon Intelligence & Space, a Raytheon Technologies business, to advance cyber resiliency across the federal, Department of Defense (DoD), and enterprise sectors with zero-trust architected computing.
As cyberattacks increase in sophistication and become harder to detect, Trenton Systems will integrate Raytheon Intelligence & Space's cyber resiliency technology into its computing solutions to protect system data and operational integrity.
These technologies include:
Electronic Armor Operating System (EA-OS): A cyber resiliency solution with advanced measures that prevent reverse engineering and guard data from attackers who have bypassed traditional information assurance controls and/or gained escalated privileges. EA-OS assumes that root-level attackers are already on the system.
Countervail: A cyber resiliency solution that reduces the risk of advanced cyber threats by preventing all untrusted or modified binaries from running on a protected system. Countervail assumes that the system should only operate as it was intended to by actively protecting the system's configuration.
Boot Shield: A small form factor root of trust card that can be installed into a computer to protect critical system firmware. Each card has its own processor and employs multiple layers of protections to prevent, detect, and respond to physical attacks. Boot Shield can be rapidly deployed as an off-the-shelf solution or customized for mission-specific needs.
Electronic Armor - Trusted Boot: A hardware-level security solution that runs on customer specified hardware. EA-Trusted Boot defends against boot-level attacks and kernel/application modification as well as attackers gaining persistence on a system. It includes firmware/software that ensures boot and runtime integrity of a COTS-based system.
"Raytheon Intelligence & Space's cybersecurity technologies will be integrated into Trenton Systems' TAA-compliant products, delivered to the Department of Defense and Intelligence Community," said Bill Heatherly, Cyber Products Sales Manager, Raytheon Intelligence & Space. "Protected by RI&S's cyber resiliency technology, Trenton's American-made, secure compute architectures offer a wide array of features at a competitive price."
Trenton's high-performance computing solutions, in rack mount and small form factor, house Raytheon Intelligence & Space's cyber resiliency products, providing customers across all domains with advanced technologies to achieve mission success.
Trenton Systems also brings in over 33 years of experience in manufacturing commercial-off-the-shelf (COTS), modified commercial-off-the-shelf (mCOTS), and custom solutions, with a heavy focus on multi-layer cybersecurity across the hardware, firmware, software, and network stack.
"Trenton Systems is honored to partner with Raytheon Intelligence & Space to fortify mission-critical solutions deployed across the world to protect the United States as well as its allies," said Yazz Krdzalic, VP of Marketing at Trenton Systems. "Together, we protect critical data-at-rest, data-in-transit, and data-in-use while implementing confidential computing methodologies at the edge."
Equipped with enhanced compute, connectivity, and cybersecurity within TAA-compliant compute architectures, Trenton Systems' solutions help military personnel achieve full spectrum dominance at the strategic, tactical, and operational levels.
Trenton Systems and Raytheon Intelligence & Space are dedicated to helping our warfighters effectively detect, track, and engage with enemy threats, no matter where the mission leads.
About Trenton Systems
Trenton Systems designs, manufactures, assembles, integrates, tests, and supports ruggedized, cybersecure, TAA-compliant rack mount, small form factor, and custom high-performance computers as well as 5G-powered compute architectures and cross domain solutions for programs and applications across the government, military, and critical infrastructure sectors.
About Raytheon Intelligence & Space
Raytheon Intelligence & Space, a Raytheon Technologies business, delivers the disruptive technologies customers need to succeed in any domain, against any challenge. A developer of advanced sensors, cyber services, and software solutions, Raytheon Intelligence & Space provides a decisive advantage to civil, military, and commercial customers around the world.