by Evan Ortiz, on Jun 2, 2022 11:46:04 AM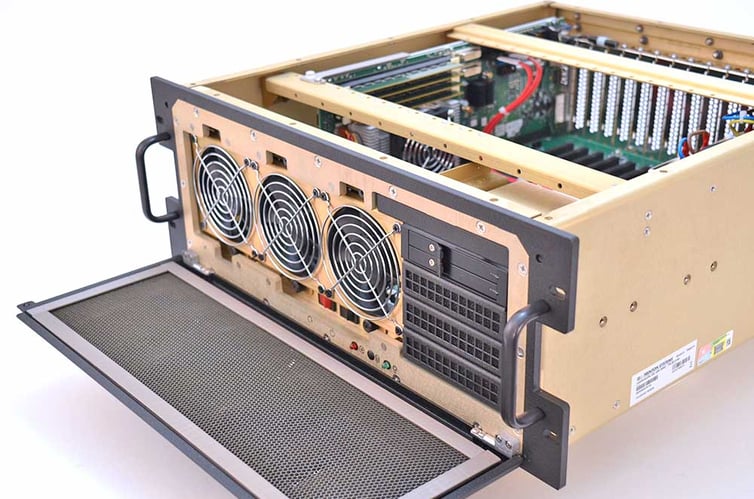 The exterior case of a computer is formally known as a chassis, guarding the interior of a computer from damage.
In this blog, you'll learn more about what a chassis is and how it helps protect a computer's critical parts and components across different environments.
What is a chassis?
A chassis--sometimes known as a case, system unit, or base unit--is the housing that helps protect and organize all the parts and components that make up a computer.
Chassis are primarily made from metal and plastic, and they often come in either black, white, or gold.
What is the purpose of a chassis?
A chassis serves five primary purposes: structure, protection, cooling, noise, and aesthetics.
Structure:

The chassis is what holds everything together in a compact and organized fashion.

Protection:

Without the chassis, all of the interior parts and components would be susceptible to damage by dust, dirt, debris, water, electrical interference, and other foreign objects.

Cooling:

The chassis helps keep the air properly flowing over all components, which keeps everything cool and running properly.

Noise:

Many computers and components have fans that generate noise. Having those components in a confined case reduce the overall noise.

Aesthetics:

In some sense, looks matter. A case with a solid color, like gold or black, is a lot more aesthetically pleasing than a bunch of boards, wires, and computer components. (Unless you're a computer nerd like me. 😉)
What is found inside a chassis?
Here are some of the most common components you would find within a chassis:
The motherboard, the main board of a computer chassis that allows communication between the CPU, RAM, and all other hardware components
CPUs (Central Processing Units), RAM (Random Access Memory), heat sinks, PCIe, and other on-board hardware components
Drives, internal or external, hard-disk or solid state
Power supply units (PSUs)
Optical drives like CDs and DVDs
Fans
Option cards like NIC cards and GPUs
What types of chassis do we use here at Trenton Systems?
At Trenton, our SWaP-C optimized, high-performance computing solutions are designed inside ruggedized chassis to protect vital system components from the harshest conditions.
In both rack mount and small form factor, each chassis is built to withstand shock, vibration, dust, dirt, water, humidity, and temperature fluctuations on sea, land, air, or space across mission-critical applications and programs worldwide.
Additionally, our chassis are made right here in the USA, stress-tested and certified to stringent military and industrial standards such as the MIL-STD-810, AS9100D, IP67, and CE, ensuring mission success across all domains of the modern battlespace.