What is an SFP (Small Form Factor Pluggable) Port?
by Brett Daniel, on Apr 13, 2020 4:29:00 PM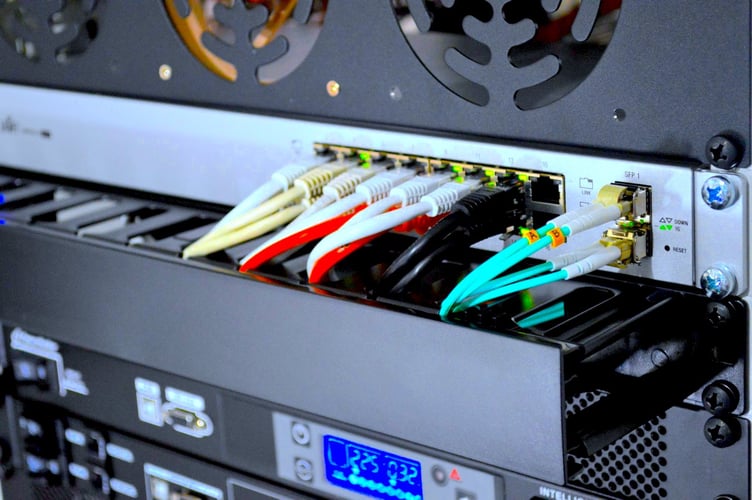 Photo: In this blog post, we'll discuss what SFP ports are, as well as answer frequently asked questions about them.
UPDATE 5/8/2020: Can't get enough ports? Check out: What is a LAN port?
If you've ever had to connect devices using copper or fiber optic cables, you've probably encountered an SFP port.
Despite their small size, these neat little slots facilitate a lot of heavy lifting in the world of data communications. In this blog post, we'll answer the following questions:
Table of Contents
And last but not least, we'll also show how Trenton Systems can make use of SFP ports in its products, before wrapping up with a conclusion.
What is an SFP port?
An SFP port is a slot on a network device or computer into which small form-factor pluggable (SFP) transceivers are inserted.
An SFP transceiver, also known as an SFP module, is just a hot-swappable, pinky-sized metal component that, when connected to another device using a cable, allows for the transmission of data.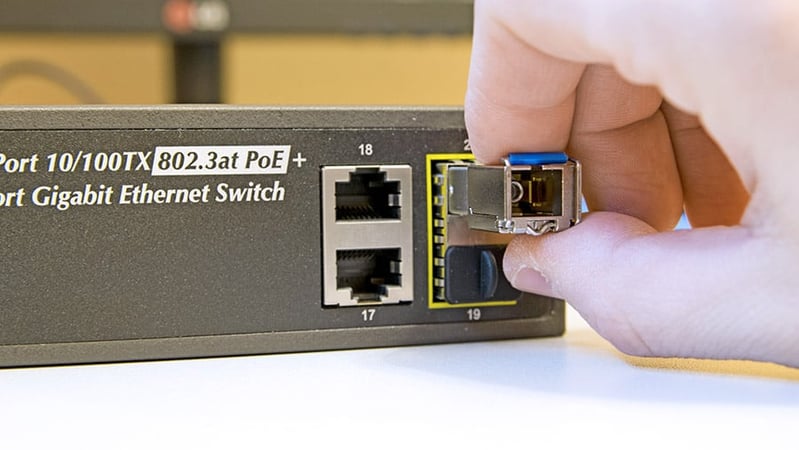 Photo: An SFP module is inserted into an SFP port on a network switch
Where is an SFP port located?
You can find an SFP port on a network device, such as a switch, server, router, or network interface card, or computer. Most switches used in large computer network applications have at least two SFP ports. These switches are sometimes referred to as SFP switches.
How does an SFP port work?
An SFP port connection enables the transfer of data between two devices via an SFP transceiver and appropriate cabling. In other words, the port and its corresponding SFP transceiver allow the two devices to communicate with each other over an extended distance.

Photo: Computer monitors and binary code symbolizing data transfer
What is an SFP port used for?
SFP ports and their corresponding SFP modules are used to facilitate seamless, high-speed data communications or telecommunications connections over extended distances in a variety of applications. They're often used to connect a one-gigabit network switch to another, which, in turn, increases the size and improves the functionality of a network. This is helpful in military, industrial, and commercial settings where numerous devices in a widespread area require a wired, high-speed, reliable connection.
What is the maximum distance between two devices that an SFP port can accommodate?
The maximum distance at which two devices can be connected via an SFP port will vary in practicality depending on the SFP module's data transfer rate, which, in turn, determines what type of cable is used to establish the connection. Take a look at the next section on cables for more information.

Photo: Ethernet cables in LAN ports, also known as RJ45 ports.
Does an SFP port use a copper or fiber optic cable?
SFP ports can accommodate both copper and fiber optic cable connections. The use of a copper or fiber optic cable depends on the data transfer capabilities of the SFP transceiver.
For example, if your network application requires data transfer rates of up to 1 Gbps at 100 meters or less, you could use a standard Cat 6 Ethernet cable with your SFP. The traditional SFP specification, created by the Small Form Factor Committee, only allows for data transfer rates of up to 1 Gbps, and the Cat 6 sports a 1Gbps transfer rate as well. Basically, these two are a match made in data communications heaven.
If you need faster transfer rates for your application, you'd use an SFP+ or QSFP+ transceiver with a fiber optic cable, which can extend much further than 100 meters without sacrificing performance. The SFP+ and QSFP+ specifications support transfer rates of up to 10 Gbps and 40 Gbps, respectively - a plus for sure. Technically, you could use a higher-category Ethernet cable with an SFP+ transceiver, but you'd be limited to around 30 meters of cabling.

Photo: An inside look at Trenton Systems, where the magic happens
How does Trenton Systems utilize SFP ports in its products?
Trenton Systems' rugged, rack-mount servers can utilize SFP ports in all sorts of military, industrial, and commercial applications.
For example, in a given network setup, one of our servers might connect to a router, which then connects to a network switch with SFP ports. These SFP ports are then connected to other devices on the network using SFP transceivers and appropriate cabling to establish high-speed data communications connections.
Upon a customer's request, our motherboards can also make use of SFP ports via PCIe plugin cards, which interface with the board to establish an external point of connection.
Visit our Components Page for more information about the input/out capabilities of our products.
Conclusion
SFP ports are an essential part of high-speed telecommunications and data communications, especially in large network environments. It's important to remember that an SFP port's ultimate goal is to facilitate a reliable, wired, high-speed connection between two devices via copper or fiber optic cables.
Thanks to SFP ports and SFP modules, you and your team can work together using incredibly fast, seamless connections.
Trenton Systems creates rugged computer systems to help customers around the world meet their rugged computing needs. We stress-test our computer systems to the max, ensuring that customers can carry out industry-specific operations comfortably, effectively, and smack dab in the middle of the world's harshest conditions. In other words, we stress so you don't have to.