What is DMEA (Defense Microelectronics Activity)?
by Christopher Trick, on Jan 7, 2022 8:29:03 AM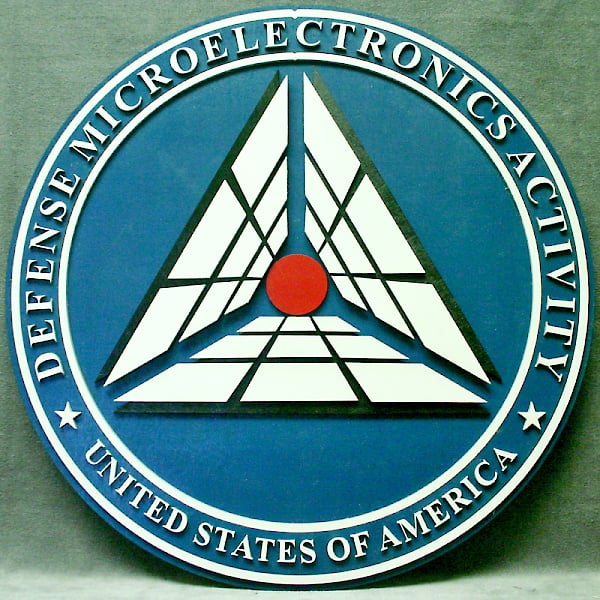 Source: customlaseraccents.com
DMEA serves as a leading provider of cutting-edge microelectronics to all branches of the U.S. government. Read about the importance of obtaining DMEA accreditation to maintain a competitive edge in the modern multi-domain battlespace.
What is DMEA?
DMEA, or Defense Microelectronics Activity, is a Department of Defense (DoD) laboratory located in McClellan, California, for microelectronics acquisition, transformation, and support.

Founded in 1997, DMEA comprises specialized microelectronics engineers and support staff working with major defense contractors and the semiconductor industry to develop advanced technology for military personnel.

The lab serves as the program manager for the DoD Trust Foundry program, which provides the U.S. government with access to leading-edge microelectronics.

DMEA also serves as a cost-effective means to establish the confidentiality and security of integrated circuits (ICs) during the design and manufacturing of these national security-critical components.
There are four standards for assessing the integrity of the people and processes involved in the production of microelectronics. All "trusted sources" must:
Provide an assured "Chain of Custody" for both classified and unclassified ICs
Ensure that there will not be any reasonable threats related to disruption in supply
Prevent intentional or unintentional modification or tampering of the ICs
Protect the ICs from unauthorized attempts at reverse engineering, exposure of functionality, or evaluation of their possible vulnerabilities
DMEA's primary purpose is to provide a competitive edge to today's warfighters operating within a multi-domain battlespace. With a wider variety of missions and adversaries, technological superiority is essential in formulating a winning strategy and ensuring our national security.
The Director of Defense Research and Engineering for Research and Technology serves as the principal advisor to the DMEA. DoD program managers, DoD technology and engineering personnel, officials from other Government agencies, and Defense industry personnel can request solutions from the lab.
Below is a graphic illustrating the process of how DMEA provides solutions to customers: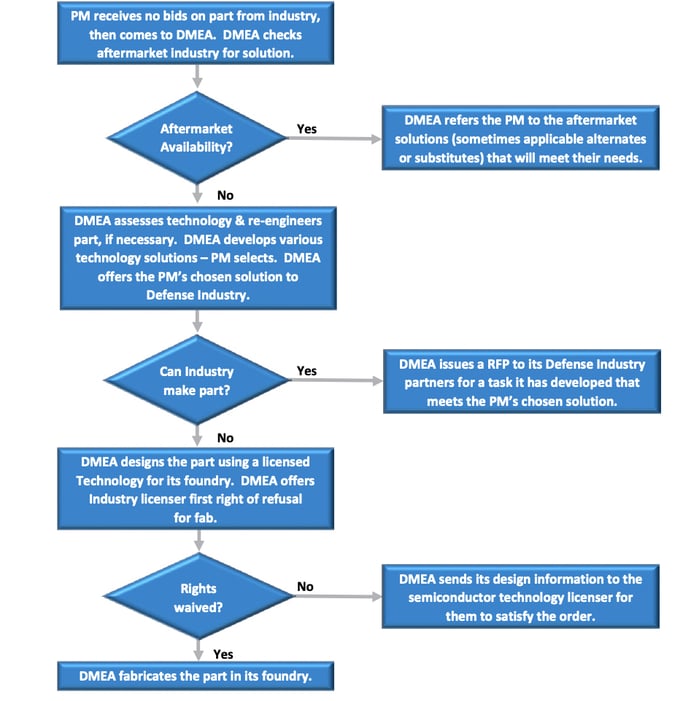 Source: media.defense.gov
One of DMEA's responsibilities is accrediting suppliers in integrated circuit design, aggregation, broker, mask manufacturing, foundry, post-processing, packaging/assembly, and test services.
According to DoD Instruction 5200.44:
In applicable systems, integrated circuit-related products and services shall be procured from a trusted supplier accredited by the Defense Microelectronics Activity (DMEA) when they are custom-designed, custom-manufactured, or tailored for a specific DoD military end use (generally referred to as application-specific integrated circuits (ASICs)).
A list of DMEA Accredited suppliers can be found here.
Why is DMEA Accreditation Important?
DMEA has the authority, granted by the U.S. government, to accredit companies to be in the Trusted Foundry Program.
DMEA accreditation means that a supplier has been vetted and can assure a proper chain of custody, preventing reasonable threats to the supply chain, preventing modification or tampering of chips, and protecting chips from being copied or released.
DMEA accreditation gives suppliers a competitive edge by making them look credible; it also provides government officials and military personnel with peace of mind that they are working with safe, secure, and authentic components.
With stringent standards for accreditation, DMEA ensures military personnel operate at maximum efficiency, thereby optimizing performance.
Sources: