WHY A 1U OR 2U BLADE SERVER MAKES SENSE
by Yazz Krdzalic, on Jan 3, 2018 9:00:05 AM
It's time to upgrade your rack mount server infrastructure - again! The 3-5 year industry average replacement window is knocking at your door (see what I did there?). You need your servers optimized and ready to tackle the high demands of today's computing needs.
I know some IT managers will say servers can last longer and some do. But after the third year of ownership, support costs escalate. According to IDC, starting in the fourth year, support costs increase about 40%. By year five, you're staring at a 200% increase. Hold on to the server for seven years and support costs hit a mind boggling 400%. At that point you're no longer a IT manager; you're a fireman.
Okay, fine, it's time to upgrade. Now you have to spend your days weighing the many rackmount solutions that come to mind. What type of server case do you need? Do you need a 1U server chassis or does a 2U rack case fit your requirements? How many PCIe slots do you need? Do you need a Xeon Server for high-processing power? Do I dare keep going?
Let me spare you some time and summarize what I am trying to say: Server Infrastructure upgrades can be a burdensome task! How could you make better use of your time and take care of your future self? [Enter Stage Right] Modular Blade Servers.
What's makes them so special?
Compute density, efficiency and versatility, and a reduced TCO (Total Cost of Ownership) - to name a few. The modular blades grant you the flexibility to set your system up as you see fit and when you see fit. Therefore, when you need to upgrade, you swap the modular blade for a new one while your server remains intact. Let me break this down some more.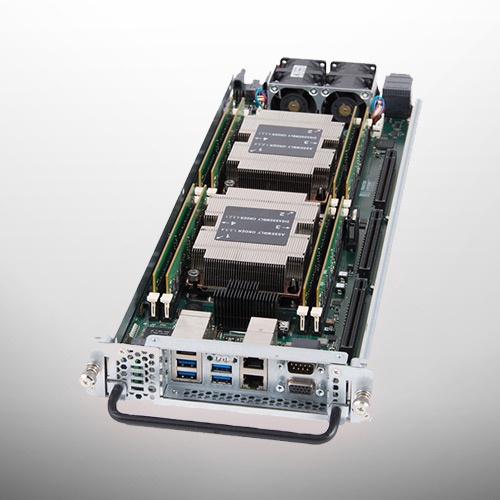 Compute Density
When it comes to packing a processing punch, a blade server has no competition.
Take Trenton Systems' MBS1001 1U Modular Blade Chassis as an example. It allows for 2 modular blades within one server with each blade powering Dual Intel® Xeon® Gold 6100 Series Processors. That's FOUR powerful CPUs, TWO xeon servers in ONE chassis!
Versatility meets Efficiency
What if processing power wasn't your mantra and you need PCIe slots in a 1U high server chassis? Modular Blades not only boast processing power in small spaces but also offer design flexibility. The MBS1002 Modular Blade Chassis, for example, comes equipped with 1 single blade that offers 2 PCIe slots in just 1U rack height! As far as we know, it's the first and only of its kind. To top it off, TWO 3.5" front-access storage drives are added for storage needs. Now you can install a powerful dual CPU blade card, have front-access storage options, and 2 PCIe slots - all in a 1U high blade server chassis.
Features like these must cost a ton, right?
Think again. Do you have to reconfigure your entire infrastructure when it comes to future upgrades? Nope! You simply take your old blade card out, pop in a new one with the components you require and you are set. How much time is that going to save you in the long-run? And according to popular belief: time = money. Speaking of money - you are buying one system but enjoying the power of two. You didn't buy two separate servers, you don't have to think about implementing two separate servers into your infrastructure, no. You bought ONE blade server for the power of TWO.
So now what?
If you want to future-proof your server infrastructure, save time and money, and achieve maximum processing power and versatility, then a modular blade system is the answer you seek. Just make sure to partner with a trusted computer manufacturer that will take care of the external factors such as warranty, computer lifecycle, and hardware revision control to bring it all together.
View All Modular Blade Chassis
Do you see it now? Your new blade servers ready to tackle the different demands of time - today, tomorrow, and beyond (echo).