Ground Control Stations: The Lifeblood of Remotely Piloted Aircraft
by Brett Daniel, on Oct 2, 2020 9:41:07 AM

Photo: General Atomics Aeronautical Systems' Certifiable Ground Control Station. Credit: GA-ASI
Table of Contents
Introduction
Remotely piloted aircraft (RPA), also known as unmanned aerial vehicles (UAVs), military drones, or in the United States Department of Defense's lexicon, unmanned aircraft systems (UAS), are becoming more and more commonplace in U.S. military programs focused on intelligence, surveillance, target acquisition, reconnaissance (ISTAR), and RPA combat.
The RPA's ability to surveil areas of interest for targets and potential threats, store and process environmental data for use by ground troops, operators, intelligence personnel, and commanding officers, as well as execute strike missions with incredible speed and accuracy has made them vital additions to America's national security arsenal.
On board, these modern marvels of military aircraft utilize a variety of sensors, ruggedized embedded computers, subsystems, and other astounding real-time and near-real-time technologies to accomplish mission-critical objectives. But contrary to popular belief, most of them don't do so autonomously, at least not fully.
From the ground, RPAs are carefully monitored and controlled by fully human pilots and operators using high-performance computers inside what's called a ground control station (GCS), which may be located near the RPA, a few hundred or thousand miles outside the area of interest, or sometimes, on the opposite side of the planet.
The military's ground control stations are usually produced by major defense contractors, with General Atomics Aeronautical Systems (GA-ASI) being the one of the most well-known producers. The stations are then equipped with commercial-off-the-shelf (COTS) or custom technologies purchased from trusted computer hardware and software companies, or subcontractors, before being sold to the military for implementation.
Ground control stations are available in a few different configurations, depending on the requirements of the mission or operation. Keep reading to learn more about ground control stations, the different types, and how you can choose the right rugged computing solution for your GCS.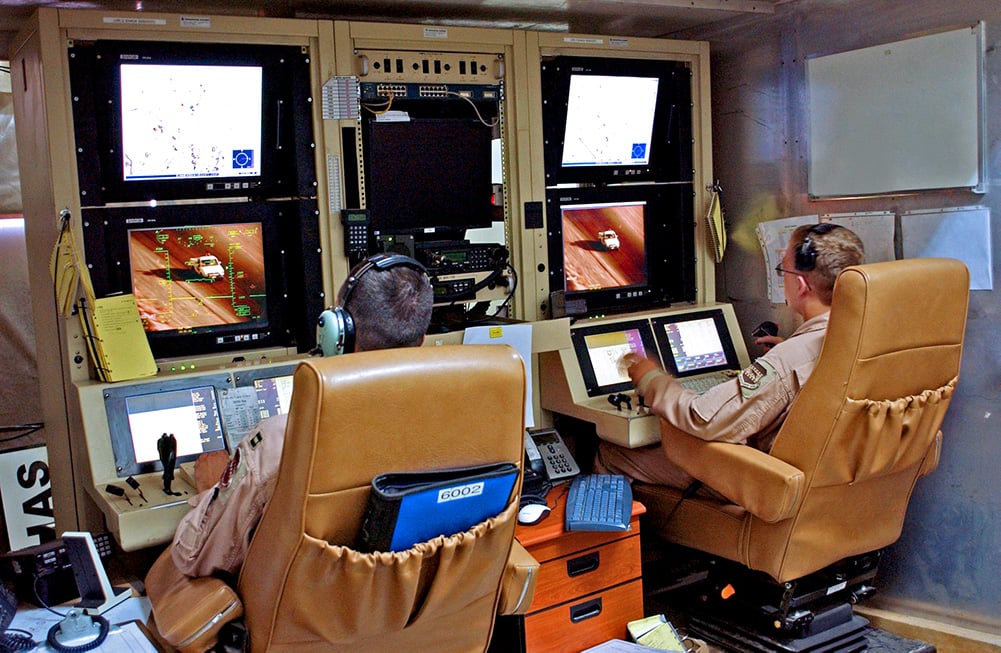 Photo: An Air Force RPA Pilot (left) and sensor operator control GA-ASI's MQ-1 Predator RPA in 2005. Credit: U.S. Air Force
What is the function of a ground control station?
A ground control station (GCS) is the central command and control hub for remotely piloted aircraft.
As the name implies, a GCS is typically land-based, but its designation is also somewhat of a misnomer, as the stations can be found aboard Navy ships as well.
Military RPA pilots and sensor operators use ground control stations to control the flight and direction of the RPA, set the aircraft's operational parameters, and manage, monitor, and govern its sensors, surveillance cameras, and other payload subsystems.
RPA as we know them today should not be conflated with autonomous drones, which require no human intervention. Instead, they rely on software to ascend, descend, and yes, carry out entire missions without human aid.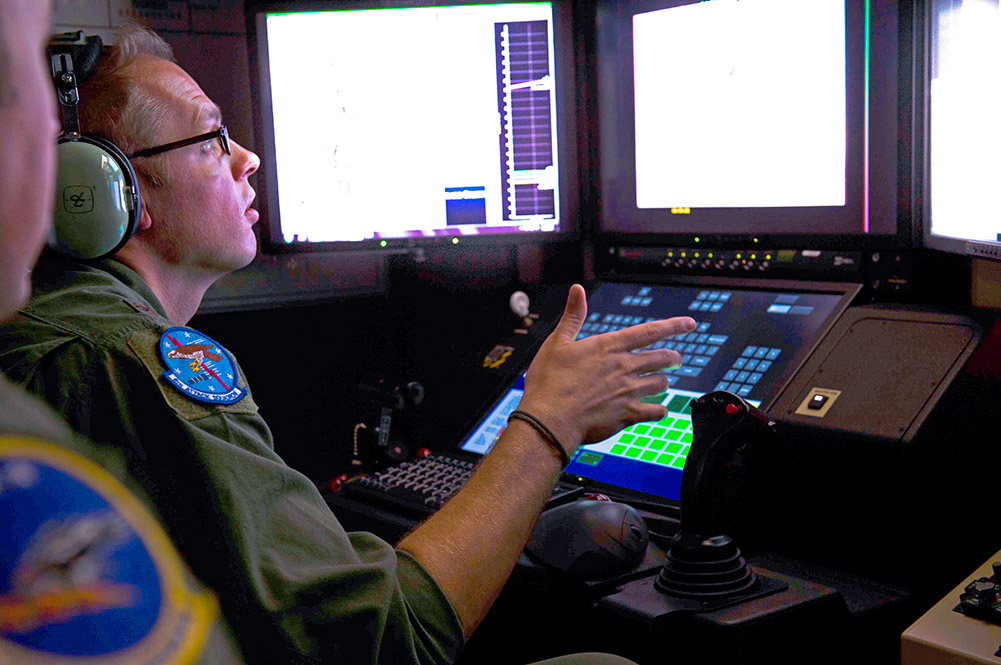 Photo: Ground control stations receive and process data collected by the RPA's sensors and subsystems in real time, allowing military personnel to adjust operations accordingly and make key decisions quickly. Credit: Air Force Technology
How do ground control stations work?
A typical ground control station is equipped with two seats, like the cockpit of an airplane or helicopter, for use by the RPA pilot and sensor operator. This creates a separation of flight operations and mission-critical activities, allowing the pilot to focus on controlling the aircraft and the sensor operator on controlling its subsystems and viewing, gathering, interpreting, and disseminating the environmental data collected by the RPA.
Together via wireless data links, the RPA's payload subsystems transmit data collected from the immediate environment – geographical information, weather conditions, objects of interest, human and inanimate targets, potential threats detected by onboard surveillance cameras, and more - back to the GCS.
This transmission of data is processed by GCS computers and showcased on GCS monitors to create a common tactical picture and vivid situational awareness for the RPA's pilot and sensor operator, other intelligence personnel, ground troops, and commanding officers, regardless of their physical location. RPA flight and activities, mission objectives, and troop tasks are then adjusted based on the acquired data.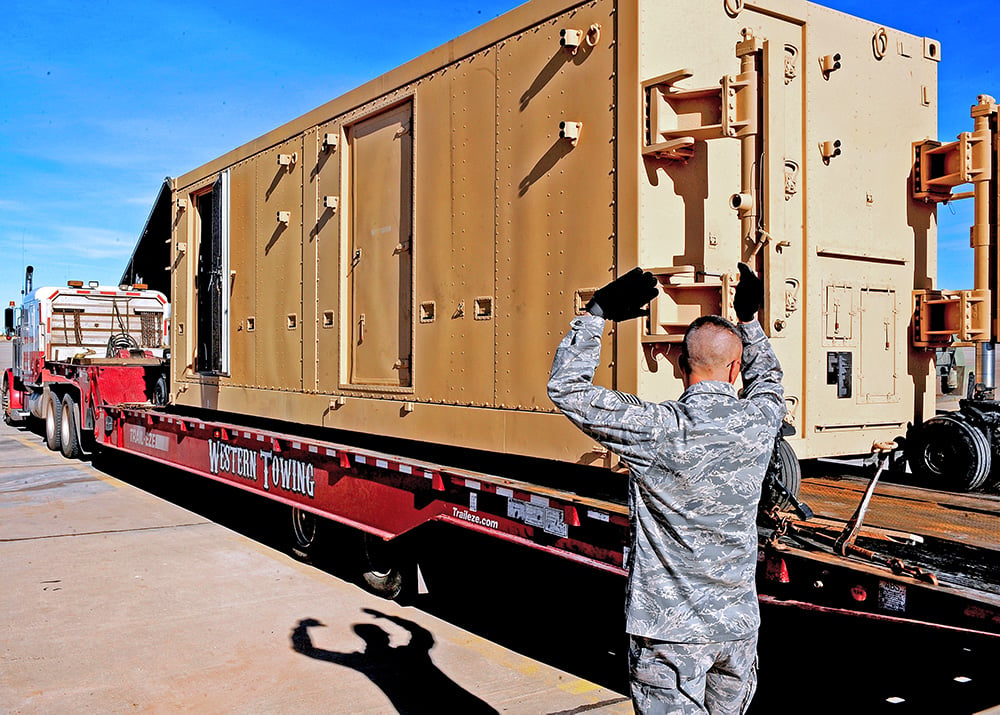 Photo: A stationary ground control station being unloaded for use with a General Atomics MQ-9 Reaper. Credit: Creech Air Force Base
What are the different types of ground control stations?
There are three main types of ground control stations:
Stationary
Shipboard
Mobile
Stationary ground control stations are typically located inside a trailer or container, or at a command center. They can be shipped fully loaded straight to the battlefield for operation. Either of these stations can be placed near the battlefield or RPA's area of interest and may even be situated in an entirely different country.
Shipboard ground control stations, as their name implies, are located aboard Navy ships, typically in the ship's data center. From here, they control RPA that surveil and patrol the world's oceans and wherever the ship is docked.
Mobile ground control stations, on the other hand, are portable, clamshell-style hubs carried into the field for proximal command and control, often within a protective transit case that folds open to reveal butterfly monitors, a keyboard, and other peripherals.
Whether a GCS is stationary, shipboard, or mobile is entirely dependent on the requirements and limitations of a particular RPA, as well as its intended purpose. For example, an RPA may have strict range limitations, and as such, would benefit from a mobile rather than stationary GCS.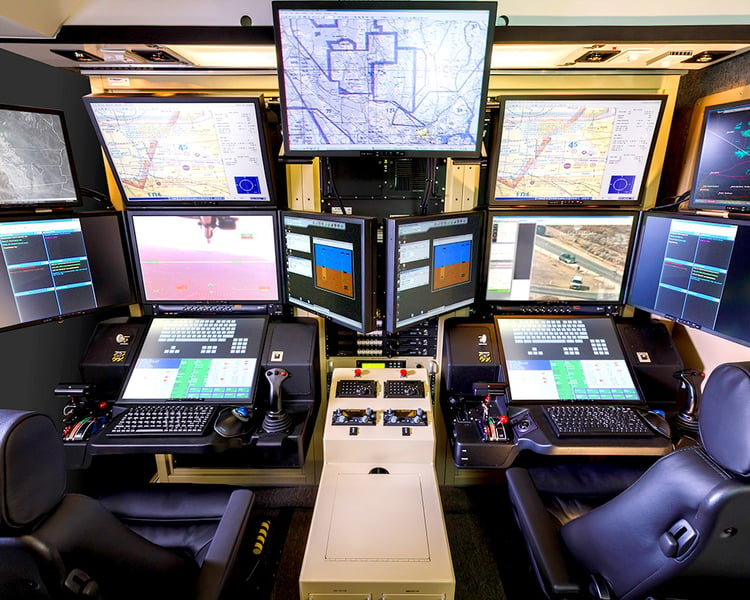 Photo: General Atomics' Block 30 Ground Control Station. Credit: GA-ASI
What are some examples of ground control stations?
A real-world example of a GCS is GA-ASI's Block 30 Ground Control Station.
This GCS is equipped with two workstations sporting 11 high-definition displays, touch screen capability, ergonomic heated seats, and a central, 24-inch display that the pilot and sensor operator use to share relevant data with each other.
The Block 30 GCS can control one RPA and is available in a mobile, dual control mobile, or fixed facility configuration. Back in June, GA-ASI secured a $12 million contract to update and modernize this very GCS.
Another example is GA-ASI's Certifiable Ground Control Station. It features HD displays, hands on throttle-and-stick (HOTAS) inspired by F-35 and F-16 combat aircraft, and Collins Aerospace's Pro Line Fusion integrated avionics system.
The CGCS controls General Atomics' MQ-9B SkyGuardian and SeaGuardian RPA, can be certified for operation in international airspace, and may be deployed as a stationary or mobile station, depending on program requirements.
Other great examples of ground control stations include Lockheed Martin's Universal Ground Control Station, GA-ASI's Portable Ground Control Station, and the Northrop Grumman Fire Scout GCS. These stations control GA-ASI's Gray Eagle and other major RPA used by the military today.
Pretty much any RPA deployed by the military today is transmitting environmental data to a ground control station located on land or at sea.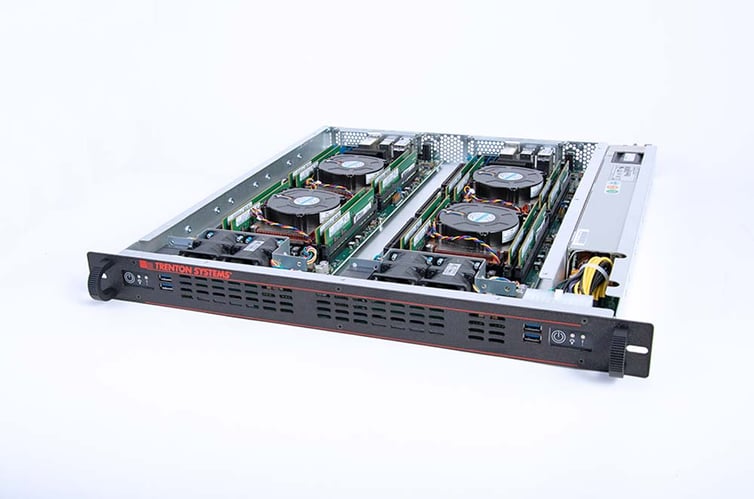 Photo: 1U Rugged Server by Trenton Systems
Choosing a rugged computing solution for ground control stations
Military ground control stations in use today typically support a modular, interoperable, open systems architecture to cut down on costs, avoid vendor locks, acquire top-notch technologies for individual applications, and replace aging software and hardware with the latest and greatest available.
This Modular Open Systems Approach (MOSA) includes refreshing the rugged servers, workstations, and associated components that allow RPA pilots and payload operators to perform their job duties safely, effectively, and efficiently.
Choosing the right rugged computing solution for this type of application involves a combination of performance, storage, environmental, form factor, SWaP-C, life cycle, and security considerations. We'll address each of these below:
Performance: Because ground control stations are storing, transmitting, and visually processing an inordinate amount of sensor data at any given moment, selecting high-performance server-class processors, such as Intel's Xeon Scalable CPUs, and GPU capability should remain primary foci for program managers and acquisition professionals looking to equip their stations with the latest and greatest. Pay attention to whether the CPUs support the advanced technologies you need. With regard to PCIe expansion, the number of PCIe slots either on the motherboard or via a compatible PCIe backplane, as well as PCIe's generational limitations, should also be considered, especially if you already have a collection of PCIe option cards you'd like to continue making the most out of.
Memory and Storage: Primary memory usage is incredibly high with ground control stations, with multiple applications powering numerous data-driven processes at once. As such, employing a system with several multi-channel DDR4 ECC DIMMs with considerable primary memory capacity is a given for smoothing out application performance, allowing quick and easy access to critical program files, and preventing common forms of data corruption. Hot-swappable storage options, especially a JBOD or a system with front-removable drive carriers, that sport multiple terabytes of storage capacity and fast read and write speeds should not be neglected, either, considering that the mountains of data collected from the RPA will need to be stored for later access and retrieved quickly.
Security: All that sensitive RPA data has to be encrypted and protected to prevent unwanted access. Fully hardened systems employing comprehensive security suites with software, firmware, and hardware-level protections, including but not limited to FIPS 140-2 drives, Secure Boot, basic antivirus software and network firewalls, and TPM 2.0. are the standard. Determining a subcontractor's CMMC score will also be key going forward.
Environmental: The durability requirements of your rugged computing solution will vary greatly depending on where it's deployed, but MIL-STD-810 vibration and shock certifications are often a requirement for systems being transported to, and deployed in, GCS environments, regardless of whether the GCS is stationary, shipboard, or mobile. MIL-S-901 testing may also be a requirement if the system is to be deployed aboard a ship. Nonetheless, finding a hardware manufacturer that handles most of the necessary compliance testing for the system in-house can save you from expending unnecessary time, effort, and money on a slew of third-party testing houses.
Form Factor, SWaP-C, and Life Cycle: Given the ever-increasing demand for smaller SWaP-C systems with long life cycles, a lightweight, rugged, small form factor server or workstation is a likely choice for ground control stations. 1U and 2U rack mount rugged servers and workstations are a step in the right direction, given their small footprint, naturally low weight, lower power consumption, and ease of field serviceability. Redundant power supply units that effectively support the system's CPUs, GPUs, memory modules, solid-state drives, and other components, with wattage to spare, are critical for ensuring that your system has adequate power to perform its basic processes and prevent power supply failure in case a PSU malfunctions and needs to be swapped out. Lastly, a longer life cycle significantly reduces lower total cost of ownership, and manufacturers should be ready and willing to provide an estimate. Learn more about the horrors of a short life cycle here.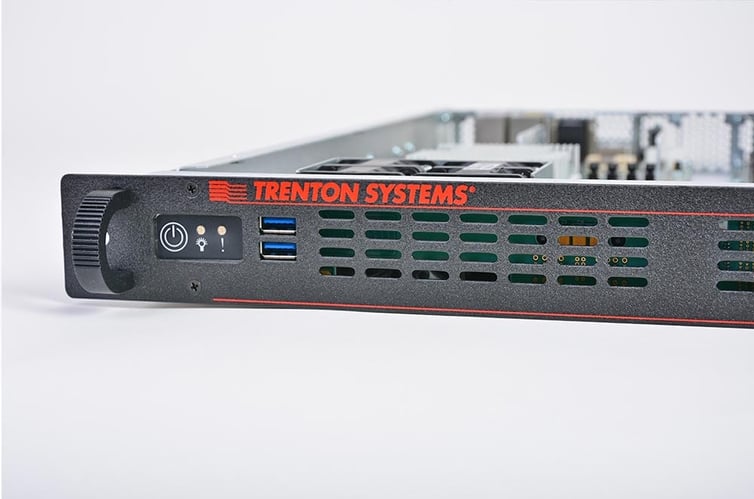 Photo: 1U Rugged Workstation by Trenton Systems
Trenton Systems: The Right Choice for Ground Control Stations
Trenton Systems is already supporting the RPA industry with made-in-USA rugged computing solutions.
Approximately 10 of Trenton Systems' 5U Rugged Servers currently support the U.S. Air Force's RPA training platform, which provides future RPA pilots and sensor operators with the skills they need to operate RPA effectively.
These particular systems required seamless performance, a lot of power, high-definition video and graphics support, and plenty of RAM and secondary storage. To accommodate these requirements, we recommended the following specifications:
THS5087 HDEC Series 5U Rugged Chassis
3 Redundant Power Supply Units (1550W)
HDB8259 HDEC Series Backplane with 15 PCIe Gen 3 Slots
SEP8253 Processor Board
2 Intel Xeon Gold 6138 Processors
Eight 32GB DDR4 DIMMS (256GB Total)
Four 3.5TB SATA SSDs
2 Removable Drive Carriers
4 NVIDIA Quadro P2000 VCQP2000-PB GPUs
4 Additional I/O Cards for RAID, USB, and other capabilities
For ground stations needing a smaller form factor, our 1U and 2U rugged servers and workstations have everything you need. Trenton Systems also specializes in custom rugged computing solutions, meaning we can design a solution in-house, just for you, from the board up.
For on-board RPA computing solutions, we're currently developing our COM Express Type 7 embedded computer. Subscribe to our blog for the latest updates.
Choosing Trenton Systems for your ground control station also comes with a host of unique benefits not offered elsewhere, including:
A 45-day

loaner program
Advanced cybersecurity and virtualization software from

Star Lab
A

10-15-year computer life cycle
Made in the USA
Obsolescence control
Custom BIOSes
Top-notch quality control
An industry-leading

five-year warranty
In-house shock, vibration, temperature, and humidity testing to

MIL-STD-810,

DO-160, and other leading

compliance testing

standards
Limited lifetime

support

from a dedicated in-house support team
Let us help you design a high-quality, made-in-USA rugged computing solution fit for your ground control station.
We're on standby whenever you're ready.